Public prosecutor in favor of provisionally suspending election delay
High court will decide from Thursday whether vote can take place on May 30 or has to be held on February 14 as originally planned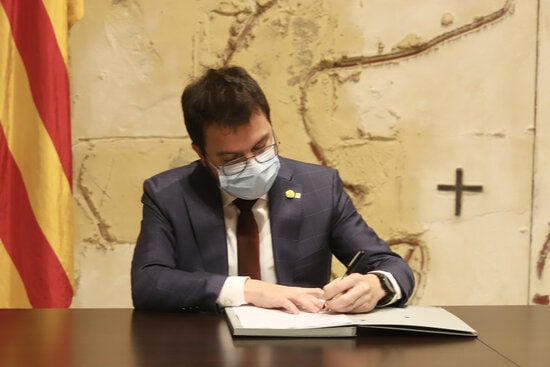 The Spanish public prosecutor sided in favor of provisionally suspending the Catalan government's election delay on Wednesday.
After the Catalan government pushed the vote back from February 14 to May 30, the high court decided to freeze the delay as an 'urgent' precautionary measure that cannot be appealed.
Judges now have to decide on the 'regular' provisional measures to take while considering the underlying issue: whether Covid-19 justifies postponing the vote and whether the decree to delay it complies with the law.
The Catalan high court is expected to rule on the 'regular' provisional measures on Thursday or soon afterward, after the prosecutor and the government have their say by 10 am on Thursday.
The prosecutor has argued that the delay has to be suspended for now because if judges end up upholding the annulment of the delay after February 14, it would be too late to hold the vote on the initially planned date.
In a report, the prosecutor only refers to the need to provisionally suspend the decree delaying the election, not to the underlying issue.
In any case, if the high court accepts these precautionary measures, it would automatically mean that the original date, February 14, will be maintained until judges announce a final decision, possibly after February 14.
Catalan government to 'fight until the end'
Catalan vice president Pere Aragonès, currently serving as interim president, spoke in parliament on Wednesday and pledged to "fight until the end" to keep the election adjourned. "The health situation proves we're right to," he said.
The Catalan executive is expected to position itself against the delay suspension and defend that polling stations must not open on February 14 but on May 30, after the third Covid-19 wave is over and when a significant number of residents will have already been vaccinated.
As the election date remains up in the air, opposition parties at the Catalan parliament criticized the government for its failure to produce a decree that could resist legal challenges.
"We need to adjourn the election. But our country deserves that the government decree is properly done, and it wasn't," said CatECP leader Jéssica Albiach.