Prosecutors request prison sentences for former senior pro-independence officials
Ex vice president's right-hand-men face up to seven years behind bars while current culture minister could be disqualified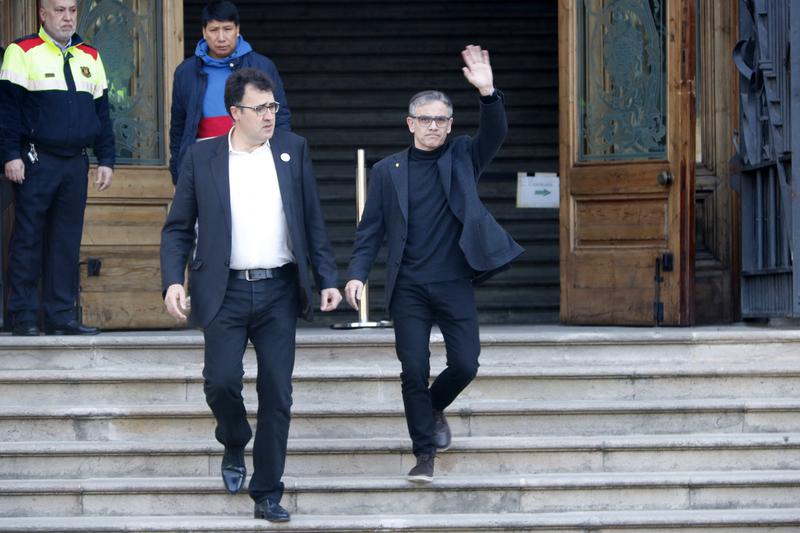 Prosecutors have requested jail terms of seven and six years respectively for Josep Maria Jové and Lluís Salvadó, two senior pro-independence officials, for their roles in the 2017 independence push.
Additionally, they are requested to be barred from holding public office for 32 years and 27 years respectively.
The case of the current culture minister, Natàlia Garriga, was also included in the investigation into Jové and Salvadó, but prosecutors are only requesting that she be barred from holding public office for one year as she is only accused of disobedience.
Jové and Salvadó are accused of disobedience, breach of official duty, misuse of funds, and disclosure of secrets. The pair, who were considered the right-hand men of former Catalan vice president Oriol Junqueras, were indicted for handling preparations for the independence vote.
The alleged acts center around their participation in the organization of the 2017 independence referendum that was deemed illegal by Spanish authorities.
At the time of the vote, Jové held the post of secretary general of the economy, and Salvadó was the secretary of the treasury.
Currently, Jové is an MP in the Catalan parliament for ERC and Salvadó is the president of Barcelona Port.
Prosecutors have also requested fines on all three: €30,000 for Jové, €24,000 for Salvadó, and €18,000 for Garriga.
"Wretches, bad people, cowardice"
Josep Maria Jové denounced the prosecutor's office for their requests on Friday morning with a tweet reading: "Wretches, bad people and, above all, a lot of cowardice."
"We'll always stand up against repression because what we did, are doing, and will do, we do for principles of democracy and freedom," he remarked.
Natàlia Garriga, meanwhile, believes the investigation against her is part of a "general case against the pro-independence movement."
The public prosecutor's request "isn't news to us. It didn't come as a surprise. The judiciary does not seek justice but rather it continues to get involved in politics," she said during a press conference.
On a similar note, Catalan president Pere Aragonès claimed that he was not surprised by the "revenge-seeking" from the Spanish judiciary system. For him, these requests are "proof that the improvement in the democratic and social context has yet still to reach judiciary levels."
He defended that the referendum held on October 1, 2017, was "not a crime."
On the other hand, Spanish PM Pedro Sánchez said he has "complete respect for judicial decisions but on the other hand, I also believe in a policy, [dialogue], that I think is doing a lot of good for Catalonia and therefore for Spain."
The politician is part of the talks on independence between the Catalan and the Spanish cabinets as he said he has always championed dialogue.
"We will always be there [for dialogue]. We made a bet, and we have continued our path since the beginning of my first presidency, focusing on dialogue, agreement, and coexisting in Catalonia, and I believe no one is debating that the situation in Catalonia in 2023 is nothing similar to the one seen in 2017," he added.