Prosecutor demands 'immediate suspension' of jailed Catalan MPs
Congress speaker calls for patience as state attorney asks Supreme Court to order parliament to bar representatives currently on trial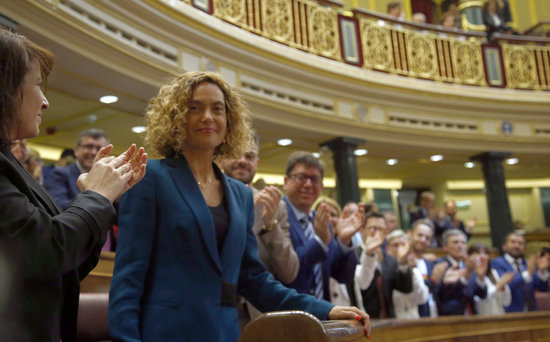 Whether the four MPs and one senator charged over the 2017 independence bid should be suspended from Spain's parliament pending the verdict in their trial at the Supreme Court has quickly come to dominate the Spanish and Catalan political agenda.
Wednesday morning saw the state prosecutor requesting that the Supreme Court order the "immediate suspension" of the jailed representatives by the respective bureaus of the upper and lower houses of the Spanish parliament.
Former ministers Oriol Junqueras, Jordi Turull and Josep Rull, and former activist Jordi Sànchez, were given permission by the court to attend the inaugural session of Congress on Tuesday to take their seats, while Raül Romeva did the same in the Senate.
Decision lies with the bureaus
The five were barred from sitting in the Catalan parliament last July, on the grounds that the law says an individual on trial for rebellion or terrorism can temporarily be suspended until a verdict is reached. It is now up to the Madrid legislature to interpret the court's ruling.
The prospect of the five representatives being suspended from future sessions in the chambers looks likely.
The new Congress speaker, Meritxell Batet, said on Wednesday that "given the law, everything indicates that this will be the case."
Speaking to the Cadena Ser radio station, Batet said the law and regulations are "clear enough," but added that "it is best to respect the time it takes for the bureau to meet."
It is not clear when that will be, but Batet hinted it would be before Sunday's local and European elections.
Unionist head says suspension should be "automatic"
Yet, the head of the unionist party Ciudadanos (Cs), Albert Rivera, was critical of Batet for allowing the four Catalan MPs to change their parliamentary oaths to add references to their being "political prisoners" or to the "mandate of the October first referendum."
Rivera told the Cope radio station on Wednesday that Batet's decision is "shameful" and "an insult to the Spanish people," and he brushed away the question of whether they should be barred, saying "there is no debate" to be had and that the suspension should be "automatic."
However, bureau member for the leftwing En Comú Podem party (ECP), Gerardo Pisarello, told Catalan television on Wednesday morning that his group will vote against suspending the MPs, as they consider that the proper legal procedure has not been followed.