Pro-independence predicted to win seats but not votes in upcoming election
Poll suggests ERC would overtake JxCat, but independence camp to fall short of 50% vote share target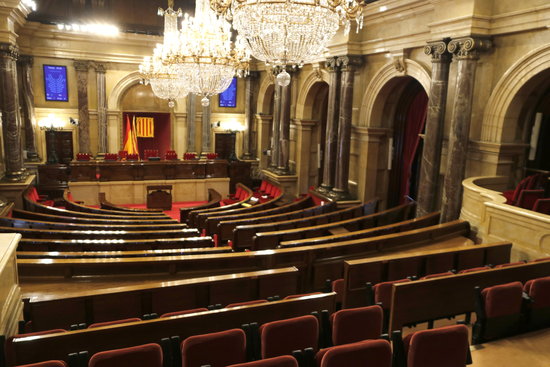 Ahead of the upcoming Catalan election, expected to be held in February, poll figures released on Friday indicate that the pro-independence side is likely to grow their majority in the parliament, but fall short of their stated aim of reaching 50% of the vote share.
The poll, conducted by Catalonia's Center for Opinion Studies (CEO), says Esquerra Republicana would win more seats than any other party, with a projection of 35-36 of the 135 available seats in the parliament.
Second would be the pro-independence Junts per Catalunya, predicted to win around 31-32 seats, indicating a power-shift among the camp looking to establish a Catalan Republic.
Combined with the far-left pro-independence CUP party, who are likely to win 6-7 seats, the independence camp would grow their majority in parliament.
However, they are not expected to reach 50% of the vote share, but instead, the poll sees the pro-independence parties winning a combined 47.7% of ballots.
Predicted to come third in the election results are the Catalan Socialists, suggested to pick up 24-25 seats. Fourth would be Ciudadanos, who currently have more seats than any other party in the chamber. The poll sees them winning only 16-17 seats, down from 36.
Left-wing and pro-referendum Catalunya En Comú-Podem are predicted to come fifth with 8-9 seats, followed by the Catalan People's Party (7-8), CUP (6-7), and the far-right Vox party would enter the parliament for the first time with 4-5 seats.
An opinion poll also conducted says that less than one percentage point separates the 'yes' and 'no' sides regarding the independence question. 45.5% of Catalans are said to be in favour of separating from Spain, while 46.3% are against.
Possible election disruption
The upcoming election is expected to take place on February 14, after parliament speaker Roger Torrent held talks with the different parliamentary groups and no candidate was formally proposed to replace the ousted Quim Torra as Catalan president.
In this event, the formal process then sees a two-month countdown automatically begin for elections to be held, and no candidate is counted as a failed investiture, thus beginning the countdown to the election.
Speaking with Catalan radio station Rac1, interior minister Miquel Sàmper warned about the possibility of the upcoming election being disrupted due to the pandemic.
The minister said that if people's ability to vote is hampered by restrictions, the vote should not be valid.
Therefore, the government have asked for a report from the Catalan Ombudsman on the possibility of preserving the right to vote and how the health crisis could limit people's capability to take part in the democratic process.