Pro-independence oaths by imprisoned MPs prompt first row of parliamentary session
Jailed Catalan leaders were criticized for calling themselves 'political prisoners'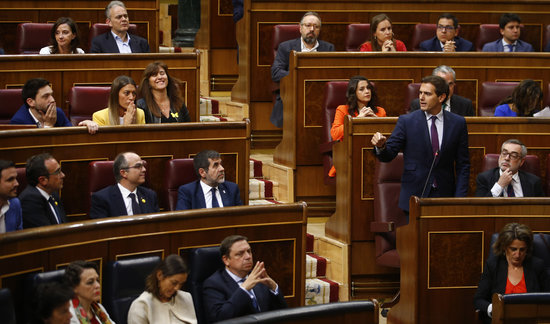 Albert Rivera, leader of staunch unionist party Ciudadanos, criticized jailed pro-independence MPs for "humiliating the Spanish people yet again" at the end of an opening congress session marked by deviations from the parliamentary script.
Ousted Catalan vice-president Oriol Junqueras, one of four MPs granted temporary leave from preventative prison for the swearing-in process, added the phrase, "as a committed republican as a political prisoner, and by legal imperative", to the oath of allegiance to the Spanish Constitution that MPs must pledge to officially take their seat.
Jordi Sànchez, Josep Rull and Jordi Turull, among his fellow defendants in the Supreme Court case over alleged rebellion relating to the failed independence drive, gave the caveat, "by legal imperative and faithful to the democratic mandate of the Catalan people from the October 1 referendum" on their turn to speak in the chamber.
The former senior Catalan government ministers struggled to make themselves heard over the noise from far-right MPs banging on the desks.
"Political prisoners"
Once the ceremony was complete, Rivera rose to object to their use of the term "political prisoners" in Congress, and in a point of order before the newly-elected speaker, accused his opponents of "trampling on the dignity of Spaniards".
"Spain is a democracy. There are no 'political prisoners'. There is only justice," Rivera said. "They will not succeed, but I ask that the speaker take action."
Constitution and convention
Catalan Socialist Meritxell Batet, in her first intervention as chair of the legislature, promptly replied that "all phrasing" that had been employed across the chamber are "in keeping with the regulations and past rulings by the Constitutional Court."
Concluding that the essence of the oath had not been dismissed in the declarations, Batet assured parliamentarians that her "role as speaker will be, at all times, to seek respect for the Constitution, respect for the law, and respect for others."
The imprisoned MPs were not the only elected representatives to expand their remarks during the hour-long swearing-in session. Members of left-wing Unidos Podemos added "for social justice", and those of far-right Vox added "for Spain".