President Torra on terrorism accusations: 'We can't condemn what doesn't exist'
Catalan head of government dismisses calls from Spanish president to condemn the alleged use of violence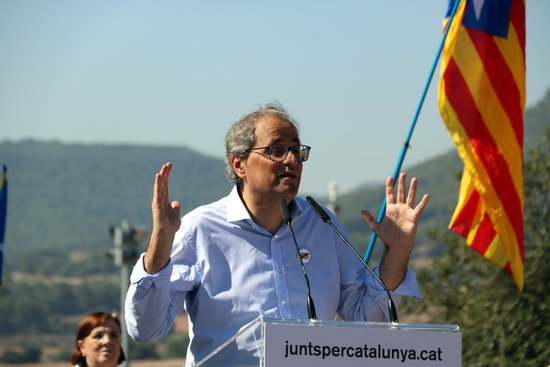 Catalan president Quim Torra has responded to calls from Spain's head of government Pedro Sánchez to condemn the alleged use of violence among independence supporters, saying that "what doesn't exist can't be condemned".
President Torra has stressed that the independence movement has "always rejected violence" and dismissed the terrorism charges against pro-independence activists arrested last Monday as "fabricated".
While two activists were released with charges, seven were sent to prison without bail accused of making explosive devices as members of a terrorist organization seeking the independence of Catalonia.
While the independence camp was wary of the accusations, the main opposition party in the Catalan parliament, Ciutadans (Cs), called on Sánchez to sack Torra and his ministers and impose direct rule on Catalonia.
Lorena Roldán, the head of Cs in Catalonia, announced on Sunday that she will propose a no-confidence vote to oust Torra from power.