President announces Catalonia-Southern France port pollution pact
Ports of Barcelona, Tarragona, Marseille, Nice and Toulon will set shared criteria on contamination levels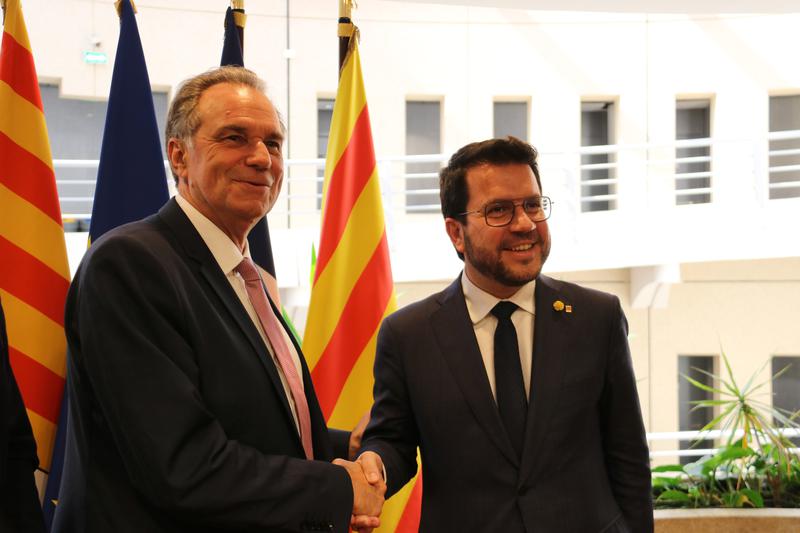 Catalan president Pere Aragonès and his counterpart in the Southern France region, Renaud Muselier, have agreed to create a "grand alliance" of ports with the aim of setting shared criteria on pollution.
Aragonès announced the agreement after meeting with Muselier in Marseille on Tuesday, where they also focused on sharing strategies to deal with the ongoing drought.
The alliance of ports will include Barcelona and Tarragona in Catalonia, and Marseille, Nice and Toulon in France.
The goal of the two leaders is to extend the pact "to the entire Mediterranean."
"If each one of us takes on this battle individually we will not come out well: operators will look for ports that demand less," Aragonès stressed.
The details of the agreement are yet to be confirmed, with Aragonès explaining that the pact will be signed "in the coming weeks."
The goal is to set criteria "to avoid a race to the bottom," he said. "It's not about competing between us to see who offers the cheapest and easiest port to pollute, but to agree on joint standards."
Muselier and Aragonès agreed that both territories share "the same problems" and celebrated this "major historic step" to start making progress in reducing emissions in the Mediterranean.
Cruising for a bruising
The impact of cruise ships on Barcelona and Tarragona is a hot topic in Catalonia. Listen to our recent Filling the Sink podcast to learn more, featuring cruise industry insiders as well as social and environmental activists.
H2Med pipeline
Earlier on Tuesday, President Aragonès reaffirmed Catalonia's "prominent role" in the H2Med project, the underwater pipeline that will transport green hydrogen between Barcelona and Marseille.
The "great challenge" Catalonia will face, however, is to generate enough renewable energy so that green hydrogen can be exported, the president said after a visit to a green hydrogen plant in Fos-sur-Mer, where the pipeline will terminate.
The plant can provide "lessons to some of the initiatives" that are being launched in Catalonia, he said.