Parliament speaker criticizes 'indifference' in face of intolerance and rise of far right
Roger Torrent warns of "laws, courts, and institutions" that violate human rights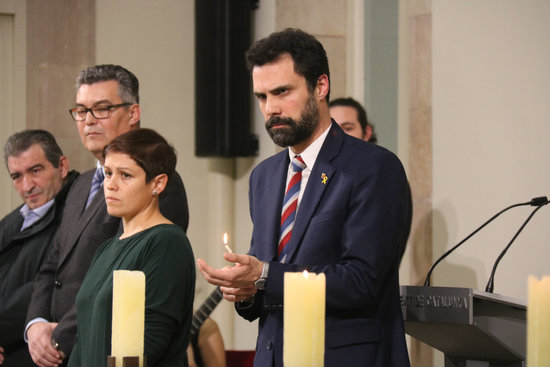 Catalan parliament speaker Roger Torrent spoke out against what he has described as "indifference" in the face of the intolerance of far-right parties and neo-fascist movements in Europe.
Speaking at an event that took place on Monday evening in honor of the victims of the Holocaust, Torrent warned of the spread of "ideas against those who do not share the same identity," adding that "laws, courts, and institutions are used to disguise the persecution of certain communities and to violate human rights under the guise of legal frameworks."
According to Torrent, who also made special mention of Catalan concentration camp survivors Neus Català and Conxita Grangé, the Holocaust "was possible because most of German society, which was so well-education, advanced, and civilized, looked the other way."
"That indifference increasingly strengthened anti-Semitism, and when the concentration camps were built and the deportations began, German society simply remained silent and wasn't capable of speaking out when the repression spread," the speaker argued.
During Monday's event, which was attended by victims' rights groups as well as members of different political parties, six candles were lit to honor the memory of victims, survivors, and the Righteous Among the Nations who risked their lives to help those who were being persecuted.