No-deal Brexit could cost Catalan economy €2bn over 5 years
Business minister Àngels Chacón met with British Consulate representative on Monday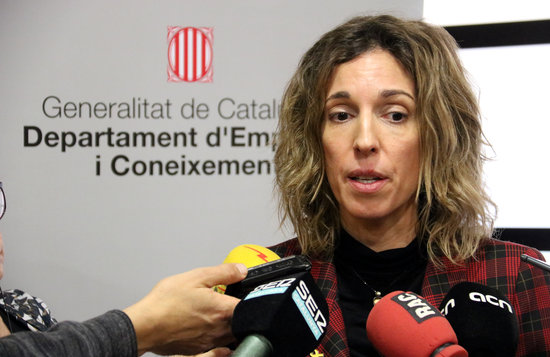 Business minister Àngels Chacón has warned that a potential no-deal Brexit, following the transition period, could have a negative impact of between 1.2 and 2 billion euros on the Catalan economy over 5 years. The figure represents up to 0.8% of Catalonia's GDP according to the government trade agency, ACCIÓ (Catalonia Trade & Investment).
On Monday Chacón met British Consulate representative Jessica Griffiths with a view to monitoring and analyze the effects of Brexit in Catalonia, on business, universities, research and tourism.
From Friday, the day that the UK officially leaves the EU, the UK and EU will enter an 11-month transition period during which they will negotiate their future relationship.
In the event that no agreement is reached, ACCIÓ has calculated that almost €1.5 billion exports from around 50 Catalan products to the United Kingdom would be affected by new tariffs, mainly in the automotive, chemical and food industries.
Business
The United Kingdom is currently Catalonia's fifth largest trading partner. 3,370 Catalan companies export products to the UK with annual sales of 3.9 billion euros in 2018. These figures represent 5.5% of the total volume of Catalan exports and represent 1.5% of Catalan GDP. "The United Kingdom is a very important partner" for Catalonia, said Chacón.
Tourism
Tourists from the UK make up the second largest group of international visitors to Catalonia. Between December 2018 and November 2019, two million British tourists visited, generating almost two million euros.
Universities and research
Catalan universities host 330 Erasmus students, and 341 undergraduate, master's and doctoral students from the United Kingdom. In addition, the UK is the main partner of Catalonia in EU-funded collaborative projects.
For the moment, EU citizens enrolled in undergraduate and graduate degree courses in the United Kingdom by December 31, 2020 will continue to enjoy the same rates as British students until the end of their studies. However, the UK's participation in the Erasmus+ program is in doubt.
Following the meeting, Minister Chacón stated that the Catalan and United Kingdom governments shared a "willingness to work together".