Motion of no confidence against President Torra kicks off despite being set to fail
Backed by Ciutadans and People's Party, vote does not have sufficient parliamentary support to pass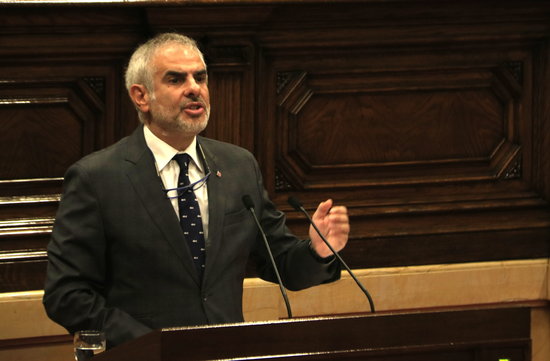 The debate prior to the vote of no confidence against Catalan president Quim Torra kicked off Monday morning at 10 am in Parliament, with Carlos Carrizosa of Ciutadans detailing why his party believes Torra should be replaced by Cs leader Lorena Roldán.
As the motion against Torra is only backed by Cs and the People's Party, which do not make up a majority, the vote is set to fail having failed to convince the Socialists, who will be abstaining, to support it as well.
Carrizosa began his speech by criticizing Torra for failing to denounce the alleged activities of the seven CDR pro-independence activists who were arrested and sent to prison without bail on terrorism charges.
The Cs MP also described the Catalan president as a "racist" for supposedly receiving support from far-right parties in Europe and called the independence movement "elitist" and "uncivil."
Government spokesperson responds
Rather than answering Carrizosa's remarks himself, Quim Torra chose to have government spokesperson Meritxell Budó respond.
Budó only spoke for 10 of the 30 minutes allocated for her response, describing the motion as "electioneering" ahead of Spain's November 10 general election and Cs as attempting to "divide the country."
Roldán's grievances
Cs leader in Catalonia, Lorena Roldán, took to the stand following Budó's brief statement and began to address the parliament.
After lambasting Torra for not bothering to speak to the MPs in attendance, Roldán went on to expound upon her grievances.
Key themes among her criticisms of Torra and the Catalan government were, according to her, the discrimination faced by Spanish speakers and "racism" amongst Catalan nationalists or the way in which the government's quest for independence has been its main guiding force.
After describing what she believes to be wrong with the current government, Roldán elaborated on her proposed political program were she to become president, focusing on health, migration, and business.