Montserrat shines with 131 peaktop lights for referendum anniversary
Catalonia's iconic mountain illuminated with points of light symbolizing country's presidents as second commemoration of independence vote begins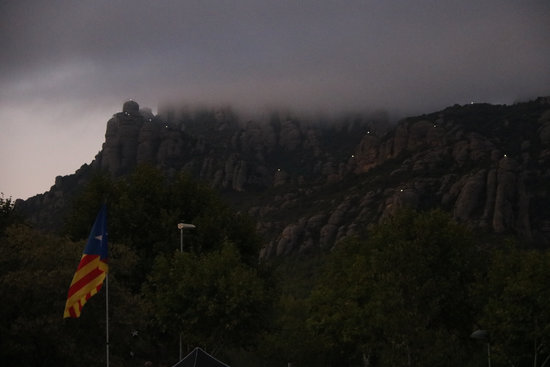 One of Catalonia's iconic natural landmarks, Montserrat mountain, was lit up with 131 points of light on Monday night, to commemorate the second anniversary of the unilateral independence referendum, which was held on October 1, 2017.
Illuminating the jagged mountain's peaks was originally planned for Catalonia's National Day on September 11 but poor weather meant it had to be postponed, and so it was rescheduled to kick off the events marking the anniversary of the bid to split from Spain.
The organizers, Llum i Llibertat, decided on the eve of the referendum's anniversary as a way to promote the events of two years ago internationally, and to provide images to contrast with those of Spanish police violence that swept the world two years ago.
The initiative supported by the main pro-independence organizations saw 131 of the mountain's peaks lit up with points of light that could be seen for kilometers around, with each light representing one of Catalonia's 131 presidents.
While the spectacle lasted one night only, the organizers recorded the event with the aim of making a documentary that they intend to show at film and TV festivals. They also asked poets to write "inspiring verses" about the event for a future exhibition.
150 climbers on 131 peaks
Illuminating the 131 peaks was achieved thanks to some 150 climbers who spent the night on top of the mountain to ensure the lights, which were lit at 8.30pm on Monday, did not go out until they were extinguished at 8am on October 1.
In the run-up to the event, the organizers asked the public not to come to the mountain and instead provided a score of viewpoints in the counties of Bages, Anoia, Baix Llobregat and Vallès Occidental from which the spectacle could be viewed.
The idea originally came from the Artistes de la República group, who along with the pro-independence Assemblea Nacional Catalana and Òmnium Cultural civil organizations, and Catalonia's federation of ramblers, FEEC, formed Llum i Llibertat.