MEPs wear yellow to demand release of Catalan leaders from jail
41 Members of European Parliament from some 15 member states wore yellow T-shirts in the chamber vote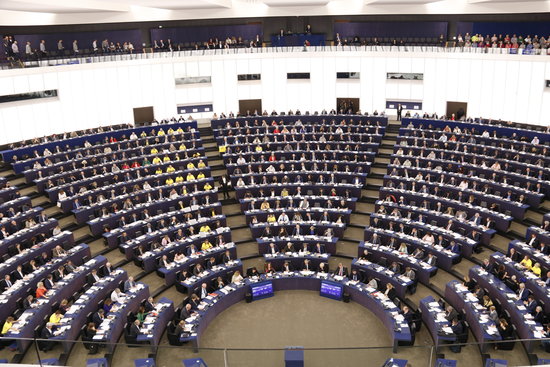 The European Parliament saw 41 of its MEPs protest the incarceration of Catalan pro-independence leaders and demand their release from pre-trial jail today - in the chamber vote itself.
On Tuesday, representatives from some fifteen member states and four European parliamentary groups wore yellow shirts, a color that has come to symbolize solidarity with those behind bars in Catalonia, in the Strasbourg plenary session.
Various countries and parties participated
The shirts worn by the MEPs read messages such as 'Free Junqueras,' 'Free Romeva' or 'Free Political Prisoners,' referring to those who have been in pre-trial jail for their role in Catalonia's bid for independence – some, for nearly a year.
Those who joined the initiative include MEPs from France (José Bové), Germany (Rebecca Harms), as well as the former Slovenian foreign affairs minister and president for the EU-Catalonia Dialogue Platform Ivo Vajgl.
Other members from countries like Italy, the UK, France, Germany, and Austria also participated in the action put forth by pro-independence Esquerra (ERC) party, which also saw the participation of Puigdemont's party PDeCAT, as well as PNB, IU, and Podem.
On day Spanish Supreme Court again rejects freedom
This, on the same day that the Spanish Supreme Court again rejected releasing pro-independence leaders who are currently in pre-trial prison, as judges argue "flight risk" and the possibility of repeat offense, while rejecting the relatives' suffering as reason enough to offer them bail.
There are currently nine individuals incarcerated and awaiting trial, including Jordi Cuixart, Jordi Sànchez, Oriol Junqueras, Quim Forn, Dolors Bassa, Carme Forcadell, Raül Romeva, Josep Rull and Jordi Turull. Some have been behind bars since October 16, 2017.