Meeting in prison to discuss budget 'humiliation for Spaniards,' says unionist leader
Left-wing Podemos head to visit jailed Esquerra leader on Friday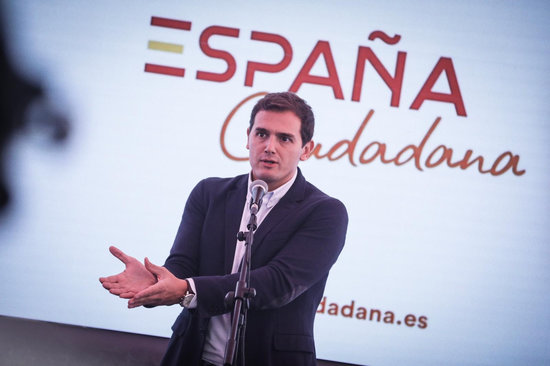 The leader of Spain's left-wing Podemos, Pablo Iglesias, will visit the jailed Esquerra leader Oriol Junqueras on Friday, in order to persuade him to support the 2019 Spanish budget – but even before this happens, the meeting has sparked controversy among the unionist parties.
The leader of Ciutadans, Albert Rivera, said on Thursday that the meeting is a "humiliation for the Spanish people."
"The fact that health, education, and pensions depend on a prison visit is a humiliation; it is not possible that [the Spanish president] Sánchez subdues us to this humiliation," he said.
"I urge Mr. Sánchez to not send Iglesias to negotiate our budget with those who tried to destroy Spain," added the Ciutadans leader.
Podemos agreed on the 2019 Spanish spending plan with the ruling Socialists, but this is not enough to pass them in Congress – the pro-independence Catalan parties and the Basque Nationalist Party are also needed for the bill to succeed in the lower chamber.
That's why Pablo Iglesias will meet the head of Esquerra party Oriol Junqueras, who has been in precautionary detention for almost a year, at the jailed official's request – according to Iglesias.
Yet so far both Catalan pro-independence forces ERC and PDeCAT have ruled out backing the budget, as has the Catalan government.
All of them have stated that unless Madrid takes steps towards an agreed referendum on independence or towards freeing the jailed leaders, they will not change their minds.
"Junqueras will tell Iglesias that we will not sit down to negotiate if they do not urge the prosecutor to withdraw the charges [against the prosecuted leaders]," said Joan Tardà, an ERC MP in Madrid.
Yet while the Socialists denied having told the leader of Podemos to meet Junqueras, their leader in Catalonia Miquel Iceta welcomed the meeting.
"If it helps the understanding, we welcome it," Iceta said.