Mayor since 1979 and eyeing up a 12th term in office
Pere Moradell has won every single local election in Torroella de Fluvià ever since the return to democracy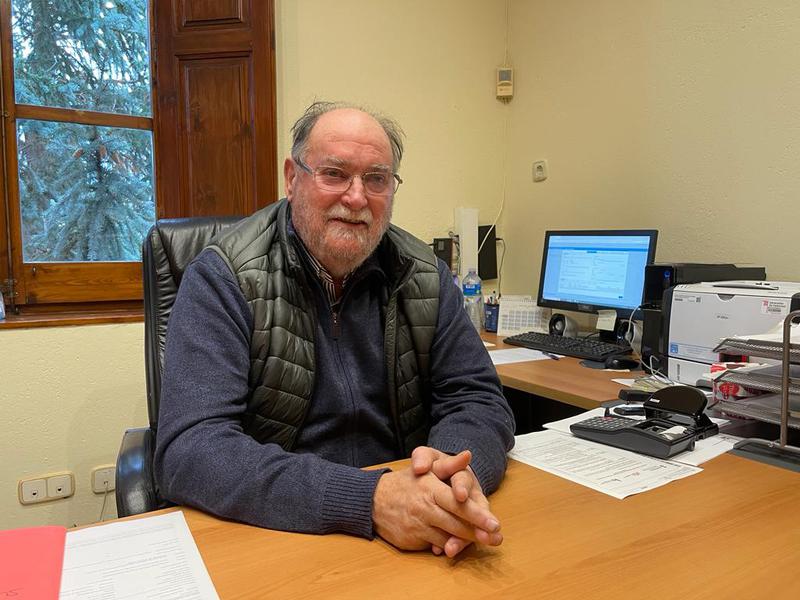 The year 1979 saw Margaret Thatcher first become UK Prime Minister, Sony released their iconic Walkman, and FC Barcelona won their first-ever European trophy. Dominating the airwaves were tracks such as ACDC's Highway to Hell, Another Brick in the Wall by Pink Floyd, and The Sugarhill Gang's Rapper's Delight, while William Styron's iconic novel 'Sophie's Choice' was first published.
This was also the year that Pere Moradell became mayor of Torroella de Fluvà, a windy town near the northern Catalan coast just outside Figueres, and to this day, 43 years on, he is still in that post. That means the Socialist mayor has won every single local election since the return to democracy following the death of Franco in 1975.
He, along with a group of friends from a youth club, decided to get involved in politics when democracy was in its fledgling infancy following the passing of the dictator. "With a new democracy starting, we were all very excited. We decided to run for office to revitalize the town," Moradell explains to Catalan News, reflecting on the early stages of his career. In 1979, he was in his mid-20s, and in his late-60s now, he still feels ready to lead the council.
Moradell is one of the longest-serving public representatives in the country, and there is only one other mayor in Catalonia who has been in the position for the same amount of time – Josep Vilà, from Fogars de la Selva. The next election will be taking place in May 2023, and while Moradell has confirmed he's ready for his 12th electoral campaign, Vilà has not yet confirmed whether or not he's standing.
Holding the post of mayor of his home town for such a long time has given Moradell a unique perspective on how society and people have changed over time.
"Life back then was a lot less complicated than it is now," Moradell says in his office, located in the town hall building in the main square of Torroella de Fluvià. "[In the past,] it was easier [to implement new initiatives.] Public administrations did not need so much documentation to do small things."
The responsibilities of a mayor are growing all the time, in Moradell's eyes, but at the same time, the power to get things done is actually decreasing. "Mayors have all the responsibilities but in turn, cannot decide anything on their own. Mayors today have less power than they ever have in public administration," he says.
He believes that bureaucracy and red tape are limiting the ability of local administrations, but he says he will still be held responsible for instances such as problems with the running water in the town when numerous government agencies need to compile reports and act on such things.
Torroella de Fluvià is a tiny town of fewer than 800 people, but despite its small size, that doesn't mean the town hasn't been keeping up with the progression of the times. "People didn't have as many needs back then (when Moradell first became mayor) as they do now," he explains to Catalan News. "Over 40 years, people have created more and more fixed costs and a system of life that has become more and more expensive to sustain."
Its population has "doubled or tripled" during the course of Moradell's mayorship, and he claims to know every single inhabitant of his town as well. Some more than others, naturally, and he describes the town as a big family, albeit with the recognition that not all families get along all the time.
As mayor, he often has to "solve problems among neighbors," and serving in such a small town lets him have a very direct line of communication with the people. Yet despite this, his day-to-day life is actually quieter now that he has recently retired from his regular job as a farmer, meaning he can dedicate himself 100% to his political work.
One of the unique challenges he faces as mayor of Torroella de Fluvià is the fact that the municipality has three different population nuclei that are quite spread out, meaning that a lot of services are difficult to join together. And while the population has grown over the decades, the town has grown in different directions, adding to the difficulty.
In the last election, held in 2019, Moradell won by one single vote - overcoming his challenger Jordi Nierga of Junts by 180 votes to 179, enough to give the Socialists the majority in the council and see him re-elected for the 11th time. However, he says the slim margin was purely consequential, as he was in poor health at the time of the vote and wasn't in the position to do any campaigning.
With eleven elections in the bag already, Moradell has his sights set on a twelfth term. He'll be running once again next May, and believes he'll be a part of a strong showing from the Catalan Socialist party.