Jailed leaders' lawyer warns of last chance for clients' release
Andreu Van den Eynde reacts to UN report calling for defendants to be freed, arguing that as trial ends the reasons to let them go are "coming together"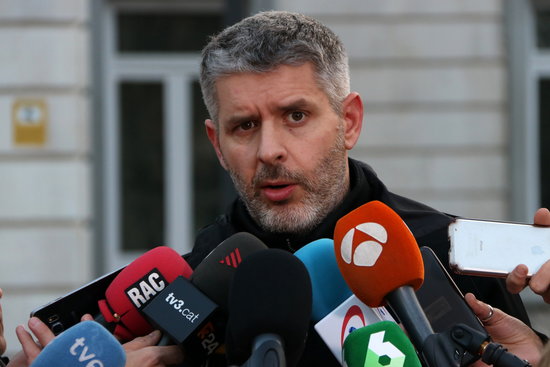 "If the release of the prisoners is not achieved now, then all avenues have been closed off." This is how Andreu Van den Eynde, the defense lawyer of two of the jailed Catalan leaders, responded to a UN report calling for three of the defendants to be freed.
Talking to Catalan radio on Thursday morning, Van den Eynde also said that now the trial of Catalan pro-independence leaders in the Supreme Court is drawing to a close "all the reasons for their release are coming together."
On Wednesday, the United Nations Working Group on Arbitrary Detention urged Spain to free Van den Eynde's client, former vice president Oriol Junqueras, and two other pro-independence leaders, from preventive prison.
State prosecutor's "stubbornness"
As for the state prosecutor's confirmation on Wednesday that the charges of rebellion, which carries a prison sentence of up to 25 years, are to be maintained, the lawyer said it showed "stubborness" as the office attempts to "justify" its position by "not budging a millimeter."
Also on Wednesday, the prosecutor called for an article of the criminal code to be imposed that allows a judge or court to deny an inmate prison furlough after serving half of their sentence. Prison furlough is when a prisoner is allowed to leave prison and then return.
For the defense lawyer, denying the defendants prison furlough should they be convicted to more than five years in prison is an unthinkable scenario, because it would have "extremely harsh consequences" for the jailed leaders.
With the trial due to end on June 11, Van den Eynde ruled out any sentencing before the summer, arguing that the Supreme Court "will not risk giving the perception that the work had been rushed through."