Jailed leader Junqueras reelected head of Esquerra
His team faces no opposition in what might be the former vice president's last stint heading party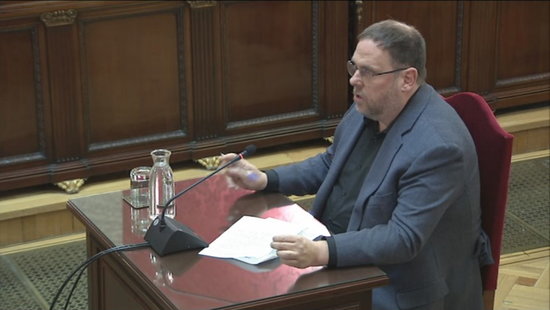 Jailed leader Oriol Junqueras was reelected president of pro-independence Esquerra on Sunday.
The party members voted for him en masse as he obtained 88% of votes with a turnout of 57%.
His second-in-command, exiled Marta Rovira, was also reelected secretary general.
Yet, given that both of them are either imprisoned or abroad, two other party officials will take the reins of day-to-day activities: Pere Aragonès, Junqueras' successor as Catalan vice president, and Marta Vilalta, the current party spokesperson.
All four obtained more than 80% of the members' votes and the team was elected with no opposition as they were the only one's vying for posts.
Esquerra's rules allow for the president and secretary general to hold posts for a maximum of 12 years, so this might be Junqueras and Rovira's last stint leading the party.
This fall, the pro-independence party, which is currently leading polls in Catalonia, will discuss their path from now on and its members will vote on it presumably by late fall. The way forward in dealing with the independence issue is expected to be one of the items they must agree on.
Oriol Junqueras, the Catalan government's second-in-command at the time of the 2017 referendum, is awaiting the verdict of his trial for rebellion charges and has been in preventive detention for 21 months.