"It is outrageous to have political prisoners in Europe," says UN expert
Victims of Spain's police violence, international experts and MEPs demand the EU to speak out over Catalan political situation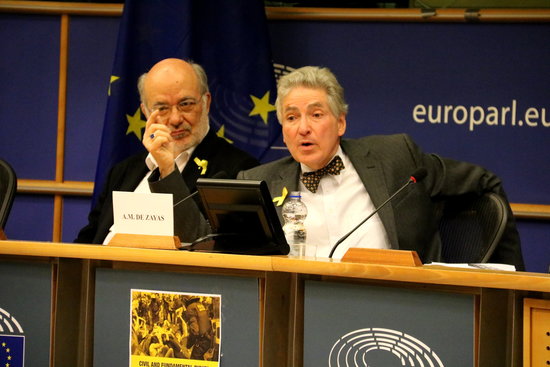 Victims of police violence on October 1, international experts and MEPs have called on the European Union to not remain indifferent to the current political situation in Catalonia. They demanded a European response to the clash of wills between Catalonia and Spain from the European Parliament in Brussels. The event, called "Fundamental and civil rights in the European Union: the Catalan case", was boosted by the EU-Catalonia dialogue platform and Catalan MEPs Josep Maria Terricabras and Jordi Solé, from the Greens/EFA group.
One of the international experts that took part in the event was the independent United Nations (UN) expert for the promotion of democracy, Alfred-Maurice de Zayas. He stated that he is "worried that there are political prisoners in Spain". "It is outrageous that there are political prisoners in Europe and that the European Commission remains silent and says nothing about it," De Zayas said.
The independent UN expert highlighted that it is a "European problem", since "it is evident that one part does not want to talk", referring to the Spanish government. What's more, he added that the European Commission should intervene in the conflict between Catalonia and Spain because this situation puts "democracy at risk".
Before the referendum on independence was held on October 1, the independent UN expert, who has largely worked in the field of human rights, had already stressed that the United Nations should mediate and help Catalonia to organize a referendum on self-determination.
"I would like Europe to speak up"
Meanwhile, Roger Español, the man who lost an eye after he was shot with a rubber bullet by the Spanish police on the referendum day, also attended the event. After having lost an eye due to the police violence, Español said that he hopes the EU "open its eyes" and "recognises once and for all what happened on October 1". "I would like Europe to speak up," he pointed out.
Español noted that it was important for him to explain his history in the European capital. In addition, he called on the EU to admit that there is a "problem of democracy within the EU" and that what happened on the referendum day "should never happen again".