Imprisonments show Spain's 'failure' as a state, jailed former minister tells NYT
Raül Romeva reaffirms his commitment to independence in interviews this week with US newspaper and Catalan television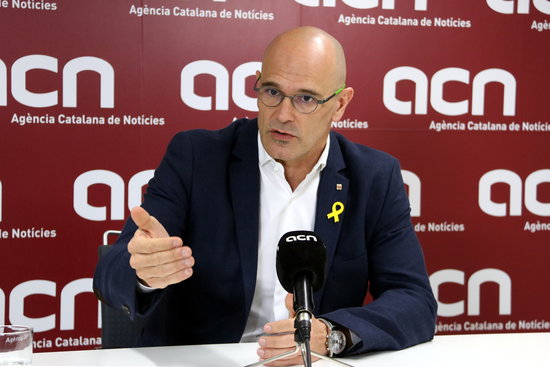 Spain's imprisonment of Catalan leaders shows "the failure of this state," according to former foreign minister, Raül Romeva, who spoke this week to the New York Times.
Romeva told the paper's Spain correspondent, Raphael Minder, that "for the people who didn't believe the Spanish state had a structural problem," the leaders' long prison stay "should already have shown them the failure of this state."
On Wednesday, the US newspaper reported comments made by Romeva, as well as former vice president Oriol Junqueras, from the Lledoners prison where they are awaiting trial.
Both men are among 18 Catalan political leaders being held in custody charged with rebellion and misuse of public funds for their part in last year's independence bid.
Also in the report, Junqueras admits possible mistakes in the 2017 independence push. "We underestimated some of the difficulties of what we wanted to do last year," he said, but insisted that no one should "underestimate the strength" of their movement.
Romeva: "I will not ask for forgiveness"
Earlier in the week, Romeva spoke out publicly for the first time since he was sent to pre-trial prison, in an interview with Catalan broadcaster, TV3, saying he would not ask for forgiveness for his part in the independence bid.
Defending his actions as a member of the Carles Puigdemont government that was dismissed by the Spanish authorities after a declaration of independence, Romeva insisted that Spain's "opting for repression will not solve absolutely anything."