Government leaders pledge 'unity' until verdict of independence case
In joint statement, president and vice president admit "coordination mechanisms" between parties are "improvable"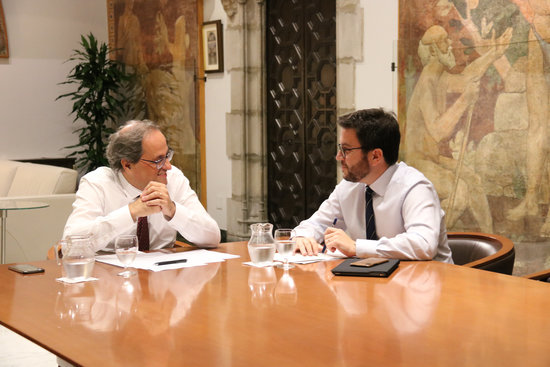 The top two members of the Catalan government showed an image of unity on Friday afternoon after the disagreements between the two parties forming the ruling coalition emerged in Parliament on Thursday.
In a joint statement, the president Quim Torra (JxCat candidacy) and the vice president Pere Aragonès (ERC) pledged to maintain the stability of the government and "unity" until "at least" the verdict of the independence case is out – something not expected before spring.
"Verdicts will be a tipping point of this term," said Torra, without specifying how he intends to react to a potential guilty sentencing.
Both leaders admitted that the "coordination mechanisms" between both forces "can be improved."
"It is reasonable that different parties have different formulas and proposals to solve difficulties. We are committed to coordinating them better before taking them to the Parliament plenary session," Aragonès said.
The executive's second-in-command also said that the situation that took place in parliament on Thursday was caused by "Spanish judiciary decisions."