Government collapse, what comes next? No snap election, likely all-Esquerra cabinet
President to reshuffle executive "to last rest of term" but is now only supported by 33 MPs out of 135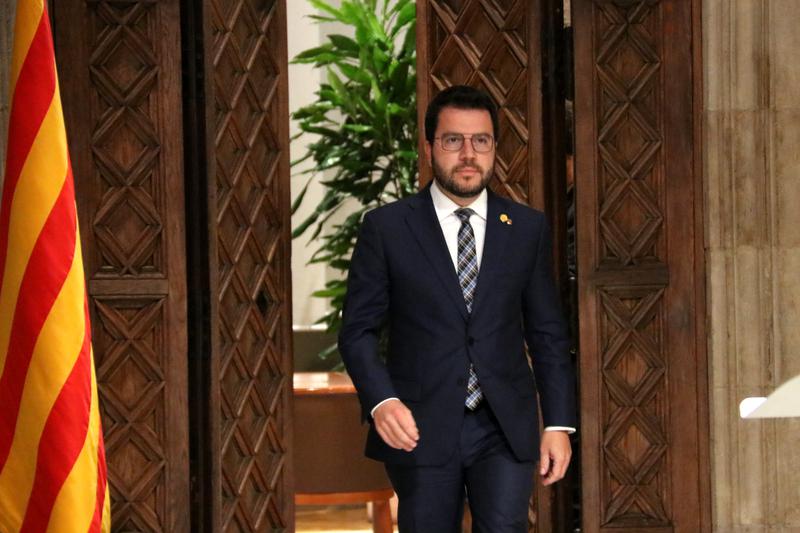 The Catalan government collapsed on Friday evening after its junior partner, Junts, exited the cabinet after a majority of its members decided to leave in an internal vote – yet this is far from meaning that a snap election will be called.
The Catalan president, Pere Aragonès, ruled out the possibility of calling an early vote by saying that he will appoint new ministers in the coming days "to last the rest of the term."
In a statement on Friday evening from the government headquarters, he said that, unlike his former junior partner, he will not "abandon citizens in difficult times like this," referring to inflation and the other negative effects of the war between Russia and Ukraine.
I will not abandon citizens in difficult times like this

Pere Aragonès

Catalan president
Yet, Aragonès has a rocky road ahead given that after Junts – and far-left CUP a year ago – withdrew their support for the executive, only 33 of 135 MPs in parliament now back the president, that is, around 25%.
The term ends in February 2025, in over two years' time, in which Esquerra is expected to seek deals with different parties for every single vote.
2023 budget: first challenge
The budget is usually the most important law to assess the stability of a government, and while failing to pass it does not automatically lead to a government collapse, it means one may be close.
Jaume Giró, the up until now economy minister, and member of Junts, said this week he had already allocated the funds available for 2023 to each of the other ministries, and talks with other parties to pass the budget had already begun.
Thus, a draft budget was not too far off to be presented, but Junts said this evening that they do not know anymore whether what will be presented resembles Giró's work, suggesting they may not support it.
This would in practice lead to requiring support from both anti-austerity En Comú Podem, a party that is not aligned on the question of independence, and the Socialists, in favor of staying in Spain, to get the spending plan passed.
No unionist party has supported a Catalan budget since the early 2010s.
Only alternative new government regular allies
If Junts blocks all major initiatives in parliament, Esquerra would regularly need En Comú Podem and the Socialists, the two parties in the Spanish government.
During his speech on Friday, Aragonès said that "everyone has to contribute to the government's stability," saying he will try to build alliances, without revealing if he will try to include any new party in the executive.
"The winner has to be the country, and its residents, their lives, concerns, hopes, and collective freedom," said the president after his rival's leader, Laura Borràs, had said that "Junts has won and Aragonès has lost."
What ministers need to be appointed?
Six ministers of Junts per Catalunya began handing in their resignations on Friday evening: health minister Josep Maria Argimon, universities minister Gemma Geis, justice minister Lourdes Ciuró, foreign minister Victòria Alsina, economy minister Jaume Giró, and social rights minister Violant Cervera.
Who their successors remained unknown as of Friday evening.