French senators call for EU mediation between Catalonia and Spain
From Paris, foreign minister calls on acting Spanish president to "immediately initiate a dialogue" to find solution to Catalan crisis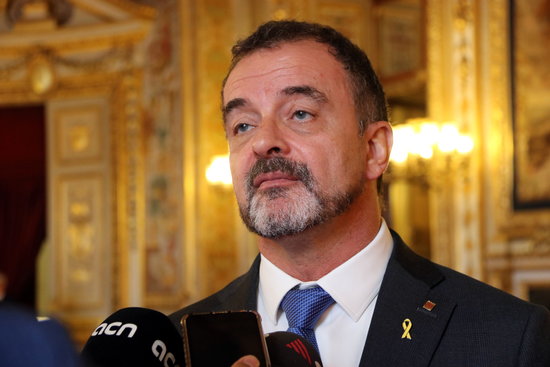 French senators who recently signed a manifesto demanding respect for "fundamental rights and freedoms in Catalonia," on Wednesday called on the European Union to mediate between Catalonia and Spain in order to "rediscover the path to dialogue."
Foreign minister Alfred Bosch was in Paris, where he met with Socialist Party senator, Simon Sutour, and senator for The Republicans, François Calvet, who insisted on the need for dialogue to find a solution to the Catalan conflict.
Calvet called on the European Union to "carry out its role and open dialogue," while Sutour added: "Our concern as French, and above all European citizens, is that democracy and freedom be protected in Europe."
Bosch appealed to Spain's acting president Pedro Sánchez to "follow the advice of all these people worldwide, such as the senators of the French Republic, to immediately initiate a dialogue and negotiation process to find a democratic solution to the ongoing conflict."
Also, on the day after the second anniversary of the unilateral independence referendum in October 1, 2017, Calvet was critical of the police operation to halt the vote, saying: "The intervention of the [Spanish] police force was brutal. None of this is in Europe's DNA."
Support for jailed and exiled leaders from 52 French MPs
Bosch's meeting on Wednesday comes after 52 French MPs signed an op-ed in 'Le Journal du Dimanche' in early September calling on Madrid to end the "repression" against the pro-independence leaders in jail or in exile.
"These elected representatives have been imprisoned and exiled for their political decisions, for wanting to organize a demonstration, and they risk a verdict with harsh prison sentences," said the manifesto.
The officials backing the text included members of the left-wing party, La France Insoumise, the centre-liberal party, Union of Democrats and Independents, and the French Communist Party, as well as former ministers, Marie-George Buffet and Sylvia Pinel.
Yet, hours after the op-ed was published, the speaker of France's National Assembly, Richard Ferrand, issued a statement expressing "respect and trust" for Spain's constitutional framework and his "commitment to the unity and integrity of our European neighbors."
Mixed reaction in Catalonia and Spain
In Catalonia, the government welcomed the manifesto, with Bosch saying it showed that the Catalan conflict "is not an internal affair," while president Quim Torra thanked the French MPs for their initiative, which he described as "commitment to democracy."
However, the Spanish authorities dismissed the op-ed, with foreign minister Josep Borrell regretting the French MPs' "ignorance of the reality of Spain," and insisting that the jailed independence leaders are not "political prisoners" and that the judiciary is "independent."