Former interior minister sentenced to 4.5 years in prison for Puigdemont police escort
Michel Buch oversaw Catalonia's Mossos d'Esquadra police after 2017 independence referendum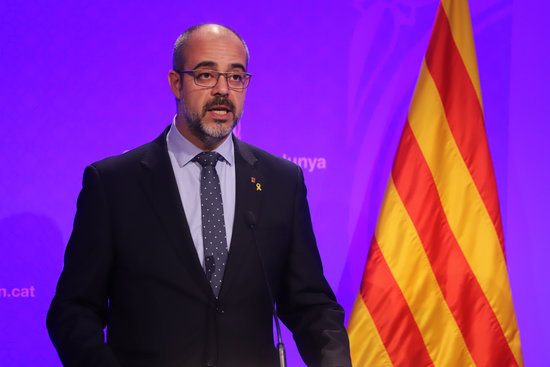 Barcelona's Regional Court has sentenced former Catalan interior minister Miquel Buch to 4.5 years in prison and 20 of disqualification for misuse of public funds for hiring a Mossos d'Esquadra police as an advisor and covertly police escorting former Catalan president Carles Puigdemont during his time in Belgium.
Lluís Escolà, the Catalan police agent who accompanied Puigdemont in Belgium has also been sentenced to 4 years in prison and 19 of disqualification.
The prosecutor's office said that Escolà and two other agents escorted Carles Puigdemont to Brussels on October 29, 2017. From October 30, 2017 to July 20, 2018, Escolà combined work leaves, permissions, and holiday days.
In July 2018, he was appointed advisor in security systems, which the prosecutor believes was created specifically for Escolà.
The prosecutor says that the aim was to "provide a permanent escort for Puigdemont from the government and through public funds".
According to the prosecutors, in the 224 days in total that Escolà worked as an advisor, he was away 103 and in an unknown location during 20.
The interior ministry said that advisors are not subject to having to keep a record of their working hours.
In a trial held against Buch in July, he said that Escolà advised the ministry in everything that was asked of him between August 2018 and March 2019, even remotely.
On a similar note, Escolà testified in court that he was not part of Puigdemont's police escort because he did not have good physical condition nor the equipment to do so.
"Unproportioned sentence"
Former minister Miquel Buch has announced that he will appeal Barcelona's Regional Court's sentence.
Speaking on the Catalan radio station Catalunya Ràdio, Buch has qualified the sentence as "unproportioned" and considers that is not adequate to the events that, according to him, happened: "I am convinced of what I did and for I find it an unfair sentence," he mentioned.
Miquel Buch, who has spoken to the media before reading the sentence, explained he wants to know "what the judge's arguments are" to sentence him.
He argues that "there was no cause" to celebrate a trial, but he is sure that "someone wanted something else" out of this case.
Buch also wanted to separate this sentence and the appeal he will present from the negotiations of a possible new amnesty law: "It is an external element. Either there is an amnesty law or not, we are sure we did not commit any crime, and we will defend that," Buch added.