Flemish parliament calls withdrawal of delegate's diplomatic status 'disproportionate'
Chamber defends its speaker's "freedom of expression," while Catalan president calls Madrid's decision 'inconceivable'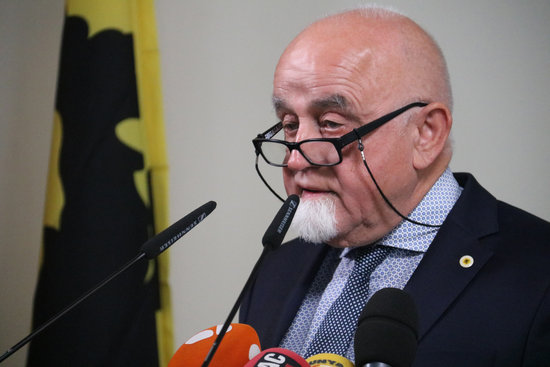 The Flemish parliament on Wednesday defended the "freedom of expression" of its president, and described the Spanish government's decision to withdraw the diplomatic status of the Flanders delegate to Spain as "disproportionate."
In a parliamentary session, the Flanders minister-president, Geert Bourgeois, explained the "serious diplomatic incident" with Spain, and later told the press that there was "unanimity" in the chamber in considering the decision by the Spanish government as "disproportionate."
"The parliament asked me to point out that there is freedom of expression in this country, also for the parliament president," said Bourgeois, who added that he hoped the crisis could be resolved with "dialogue."
Flemish parliament president comments
The Flanders delegate in Spain, André Hebbelinck, was stripped of his diplomatic privileges after some recent comments in a letter from the Flemish parliament speaker, Jan Peumans, which included referring to the nine jailed Catalan leaders as "political prisoners."
In the letter, Peumans also said the detention of the political leaders "proves that the central government in Spain does not fulfil the criteria of a democratic and modern European Union."
Decision "inconceivable," says Torra
Catalan president, Quim Torra, hit out at Spanish foreign minister, Josep Borrell, accusing him of "confronting" EU countries, and labelling the decision to withdraw the delegate's privileges as "inconceivable." "I believe that Europe is realizing that the problem of freedom of expression is not an internal affair," he added.
In a statement, the Catalan government said that it "regrets the decision of the Spanish foreign affairs ministry," describing it as "contrary to the principle of respect for the right of citizens and their elected representatives to express their opinion freely."
Meanwhile, Bourgeois said in an interview with a Belgian radio station on Wednesday morning that he intends to "summon" the Spanish ambassador in Belgium, Beatriz Larrotcha, as soon as possible.