First delegation closed during direct rule reopened in Berlin
Spanish government has said it will appeal against reinstating of Catalan government offices abroad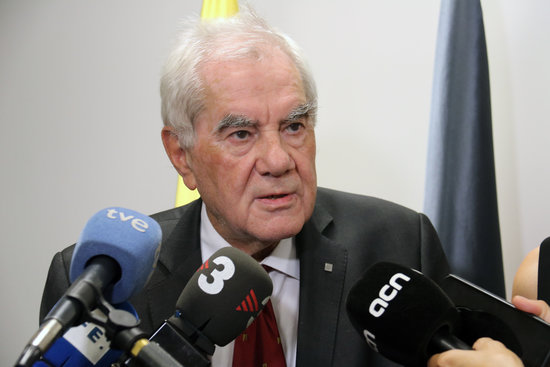 Catalonia has opened its first delegation abroad that was closed during direct rule was applied in the country, inaugurated by foreign affairs minister Ernest Maragall in Berlin.
He travelled to the German capital to reopen the government headquarters. Speaking to the press he said he was convinced a solution would be found "soon" with regard to what his Spanish counterpart said about appealing against the reopening of delegations.
The minister told reporters that he regretted the "actions of intimidation" but stated that he has not ruled out reaching a political agreement to stop the judicial appeal.
The delegation will have the same leadership as before. Marie Kapretz will be representing once more Catalonia in Germany.
"Real" results
Regarding the role of the foreign delegations, Maragall asserted that "their obligation is also" to work towards "obtaining the understanding" of other countries and international organizations.
In this sense, with its offices abroad the government aims to achieve "real and practical results" which, according to the minister are the "freedom" of jailed pro-independence leaders, the "return" of those seeking refuge from Spanish justice abroad, and "an agreement to move forward in the direction of democratic expression."
Appeal against re-opening of Catalan delegations abroad
The Spanish foreign minister Josep Borrell announced on Tuesday that the Spanish executive will appeal against the reopening of Catalan "embassies" abroad.
The delegations were shut down by Spain's previous People's Party (PP) administration after the application of Article 155, stripping Catalonia of its self-rule.
According to Borrell, the reason behind this appeal is that the government has "not complied with legal procedures completely."
Borrell said that Spain's international image is "seriously damaged, above all in Europe and the Anglo Saxon world," by "propaganda" from the "Catalan pro-independence movement with the active support of the Generalitat's institutions."
He said that the Spanish government has "no other choice" but to appeal against the reopening of the delegations.