EU institutions pull out of award event because prize features yellow ribbon
European Commission and Parliament say sculpture presented to French journalist includes 'political message'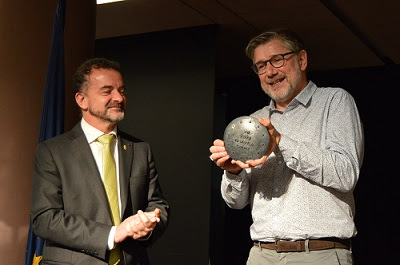 The yellow ribbons in support of jailed and exiled independence leaders divide opinion, and now the controversial symbol has led the European Commission and Parliament to pull out of an award ceremony because the prize features one of the ribbons.
The Ernest Udina Prize for the Best Eu­ro­pean Spirit, awarded by the As­so­ci­a­tion of Eu­ro­pean Jour­nal­ists of Cat­alo­nia (APEC in Catalan), this year went to journalist, Jean Quatremer, from the French daily 'Libération'.
However, a spokesperson for the Commission told the Catalan News Agency that the prize sculpture, which also features the phrase 'Voting is not a crime', includes "a political message" and does not fit within the EU institution's "criteria of neutrality."
The spokesperson also denied that the Commission's decision to pull out of the event was a boycott of either the prize or Quatremer, who first broke the Selmayrgate appointment scandal, and insisted that Brussels respects "freedom of expression."
The Commission and Parliament have supported the APEC prize since its creation in 2006, and have always attended the award ceremony. Yet, sources from both institutions say they regret that they had were not informed "in advance of the sculpture's characteristics."
Decision "irregular and scandalous," says Quatremer
As for the prizewinner, Quatremer regretted the decision of the institutions, saying "they believe that artistic expression does not reach Catalonia," and added that he found it "deeply irregular" that they did not send any representatives to attend the event.
"It's scandalous," insisted the journalist, "it violates the freedom of thought and creation that are a basis of the EU," and he praised the sculpture designed by Catalan artist Enric Pladevall as "magnificent."
As for the artist, in a statement, he said he is aware that Quatremer is not a supporter of Catalan independence but he knew the journalist defends the right to decide. Quatremer added that APEC had not commissioned Pladevall to design a pro-independence award.