EU diplomacy chief under pressure after exchange with Russia on Navalny and Catalan leaders
MEPs call for Borrell's resignation while European countries expel diplomats in retaliation against Moscow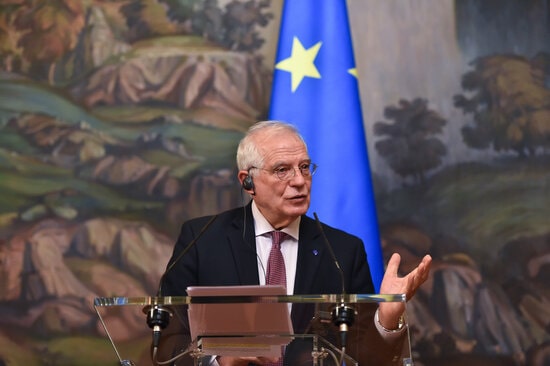 Friday's tense joint press conference between EU High Representative Josep Borrell and Russian minister of foreign affairs, Sergey Lavrov, continues to push the blocs' ideological differences to the fore.
After Borrell, who is also a former Socialist Spanish foreign minister, called for the release of imprisoned opposition politician and activist Alexei Navalny, Lavrov retorted by reminding him that Russia did not comment on internal European affairs, including Catalonia's 2017 independence push and its leaders' "politicized charges."
According to Lavrov, not only were claims his country interfered in Catalonia "baseless," but the Union should also refrain from its "arrogant" and "rude" questioning of Russia's judicial decisions.
70 MEPs call for Borrell's resignation
Following this strained exchange, around 70 MEPs, including far-right Vox's Herman Tertsch, sent a letter to European Commission president Ursula von der Leyen in which they described Borrell's actions as "humiliating" because, they argue, they have "greatly damaged the European Union's reputation."
The signatories, who are mainly ultraconservative Polish lawmakers as well as conservative MEPs from other Eastern member states, believe he should step down for traveling to Russia "on his own initiative." They also claim he did not defend the EU's interests when, among others, Lavrov criticized the Union and its ally, the United States, for not mentioning "Russia's ongoing war in east Ukraine" or for endorsing the Sputnik Covid-19 vaccine.
I took the initiative to ask for action after humiliating visit of @JosepBorrellF to Moscow. No excuse, it was a failure. #StopBorrell @EPPGroup @MFAestonia @EEinEU @EP_ForeignAff @errnews https://t.co/dYbz1SCi33

— Riho Terras (@RihoTerras) February 6, 2021
Von der Leyen, however, has expressed her support for the High Representative, says chief Commission spokesperson Eric Mamer, who called the trip "necessary" despite the criticism the EU diplomatic chief has received.
Speaking directly to the Russian minister's mention of Catalonia's 2017 referendum organizers, Borrell's spokesperson Peter Stano said there were "fundamental differences" between their case and that of Navalny, who was recently sentenced to over two years behind bars, and called Lavrov's analogy "out of place."
EU-Russia diplomatic row
Russia expelled three European diplomats—from Germany, Sweden, and Poland—on Friday, the same day Borrell and Lavrov met, accusing them of participating in protests against Navalny's imprisonment despite the European Union's denials.
On Monday, all three of these EU member states announced they would be carrying out similar actions in retaliation against Moscow's move.
Borrell defends his trip to Moscow
The High Representative defended his trip to Moscow, calling it necessary after Nalvany's arrest, although he admitted he could have "approached it differently."
Speaking in the EU parliament on Tuesday, Borrell also said he was open to imposing sanctions on Russia and asked for unity among member states despite the criticism he received from a number of conservative and far-right MEPs.