Esquerra rules out calling for snap Catalan election after Spanish PM announcement
Socialists won't push for motion of no confidence against Catalan president, while En Comú Podem back Yolanda Díaz's candidacy for July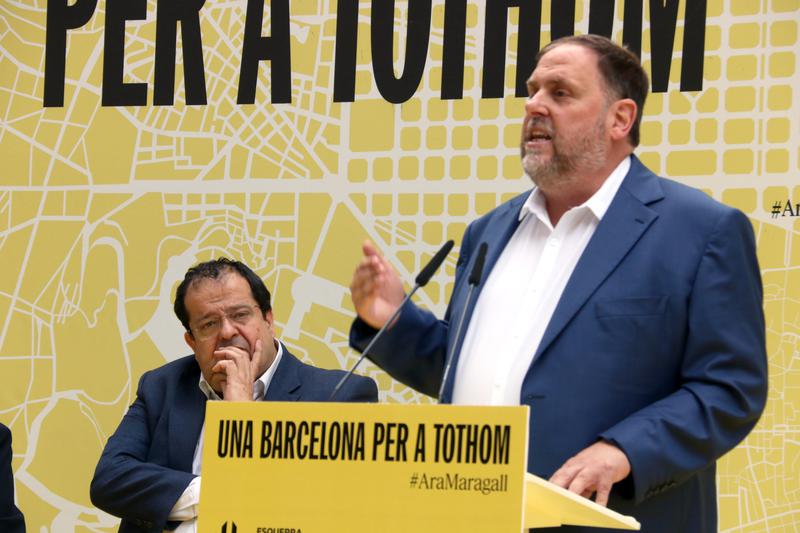 The pro-independence party governing solo in Catalonia, Esquerra Republicana, will not call for a snap Catalan election, as its leader Oriol Junqueras said on Monday morning after Spanish PM Pedro Sánchez's announcement and the local elections.
Sánchez called for Spaniards to vote in a snap general election on July 23, after the Socialists suffered bruising results in the local and regional elections on May 28 across the country, with the conservative People's Party sweeping across Spain.
Meanwhile, in Catalonia, "I will not do a motion of no confidence," Socialist leader and head of the Catalan parliament opposition Salvador Illa said on Monday morning during a press conference at his party's headquarters in Barcelona.
"Catalonia needs for all of us to grow and not do motions of no confidence," Illa added.
Illa considered Sánchez's decision as "brave, right, and profoundly democratic, as we are giving the voice to residents for on July 23 choose the path that Spain has to follow," with the goal of "winning the elections."
Colau's party backs Yolanda Díaz
Barcelona En Comú and En Comú Podem, Ada Colau's political space at the municipal and Catalan levels, have publicly backed Yolanda Díaz to be the "next Prime Minister of Spain."
David Cid and Jordi Martí gave a press conference at the BComú headquarters in the Catalan capital the morning after the local election to assess the results and evaluate the new political landscape. In doing so, they gave their support to the current vice-president of Spain, Yolanda Díaz, who recently launched a new left-wing political platform, Sumar.
Esquerra's candidate
While the Socialists did not announce any candidate yet to run at the Spanish general election on July 23, ERC confirmed that the current spokesperson in Madrid, Gabriel Rufián, will, once again, be the top name on their ballot.
On another level, Junqueras considered the solo-governing party in Catalonia to be "the best antidote" against the conservative People's Party and far-right Vox, as ERC is the "furthest" party from the far-right.
This is why the leader pardoned for his role in the 2017 independence push called for Catalans to vote for a "democratic, republican, and pro-independence wave" on July 23.
Junts to go to primaries
Two figureheads from Junts have put themselves forward as the prospective candidate to represent the pro-independence party in Madrid: Míriam Nogueras, the current party spokesperson in Madrid, and Jaume Giró, Catalonia's former economy minister under the presidency of Pere Aragonès before Junts left the government.
In order to decide who will be top of their list, the party will hold primaries to ask their membership.