Debate on Aragonès' presidential bid, expected to suceed, now underway - live updates
Esquerra's frontrunner will become new head of Catalan government on Friday after pro-independence coalition deal with Junts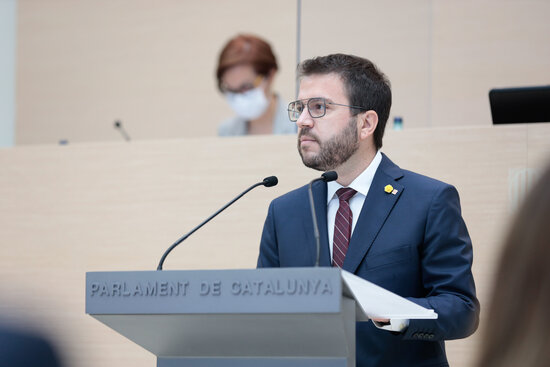 The second day of debates on Pere Aragonès' bid to become president has begun in the Catalan parliament. The ERC candidate is expected to be named the new president of Catalonia on Friday after the voting takes place in the chamber.
Aragonès gave his opening speech to lawmakers on Thursday.
Unlike the failed vote in the debate on Aragonès' bid from March 26 to March 30, this time the current interim president is very likely to succeed, since his party sealed a coalition deal with the other main pro-independence force, Junts, earlier this week. Esquerra also has a deal with the anticapitalist CUP party, which will also contribute to see him become the 132nd Catalan president in the first round of vote on Friday evening.
A swearing-in ceremony is expected in the coming days, before the new ministers are appointed and the new executive is finally up and running after over 230 days of an interim cabinet.
Yet, beforehand the lawmakers still have to greenlight his bid, which began with his speech and will continue over Thursday and Friday before a vote is held on Friday evening.
Follow our live updates here: