Constitutional court considering investigation against parliament speaker and officials
Spain's highest court passes the matter over to the prosecutor who will decide whether to open a disobedience case against them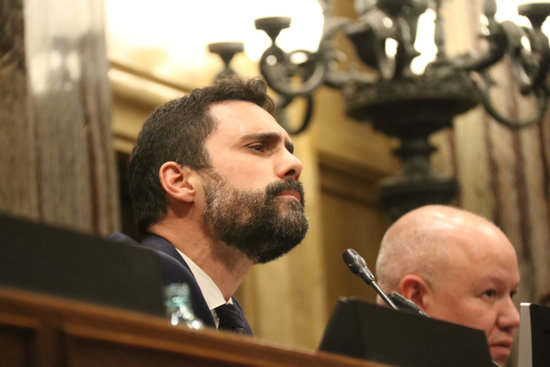 The Constitutional Court has unanimously agreed to bring various parliament leaders to the prosecutor to decide whether or not to open an investigation for "disobedience" against them.
Parliament president Roger Torrent, first Vice President Josep Costa, and First Secretary of the Bureau Eusebi Campdepadrós may be investigated as a result of claims from the Constitutional Court that their political activity violated a motion in response to the Supreme Court's guilty verdict for the independence leaders in the Catalan Trial.
Specifically, the chamber's reaction to the ruling comdemning nine independence leaders to jail sentences of 9-13 years reiterated the right to self-determination, which Spanish court have forbidden in the parliament.
The Catalan Parliament text stated that, the Parliament "will reiterate and reiterate as often as MPs wish, the defense of the right to self-determination and the claim of the sovereignty of the people of Catalonia to decide their political future, as well as the repeal of the monarchy."
The motion also agreed to notify Torrent and other bureau members of attempts to halt any initiatives focused on overlooking the official court resolutions. In addition, the suit agrees to the termination of an execution incident presented by the Spanish government in agreement with the bureau, that had already been annulled.