Ciutadans open door to People's Party unionist partnership ahead of Catalan elections
Madrid spokesperson, Inés Arrimadas, asks party leaders to discuss potential deal also in Galicia and Basque Country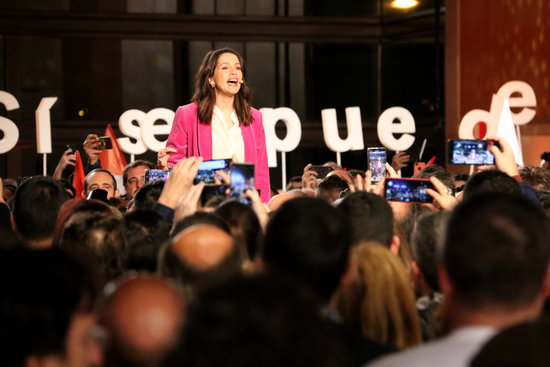 Spokesperson for the unionist Ciutadans party in Madrid's congress, Inés Arrimadas, has implored party leadership to consider a partnership with the People's Party for the next Catalan elections.
Ciutadans, who currently have more seats than any other single faction in the Catalan parliament, may also consider making similar deals with the right-wing People's Party in Galicia and the Basque Country.
Specifically, Arrimadas calls for "transversal constitutionalist agreements" in the coming elections in Catalonia, Galicia, and the Basque Country. She said in a press conference this Friday that she wants the party leadership to hold an extraordinary meeting to "debate" and "decide" on the possibility of joining with other factions in the regional elections.
The People's Party are the other political group in her sights, who have previously shown themselves open to such an arrangement in the past.
Ahead of the 2017 elections in Catalonia following the independence push, the People's Party offered a similar type of deal between the parties, but with Ciutadans soaring in the polls, they rejected a partnership on the belief that they could govern alone.
According to Arrimadas, it is now time to "have sights, generosity and courage."
"I am convinced that if the constitutionalists work together we will be able to overcome any challenge," she said, emphasizing that "in exceptional times, places, and circumstances," efforts must come together.
In the Spanish election in 2019, Ciutadans dropped from having 57 seats to 10 in the Spanish congress.