CCOO and UGT unions back Spanish government's pension reform
Employer organizations reject proposal endorsed by European Commission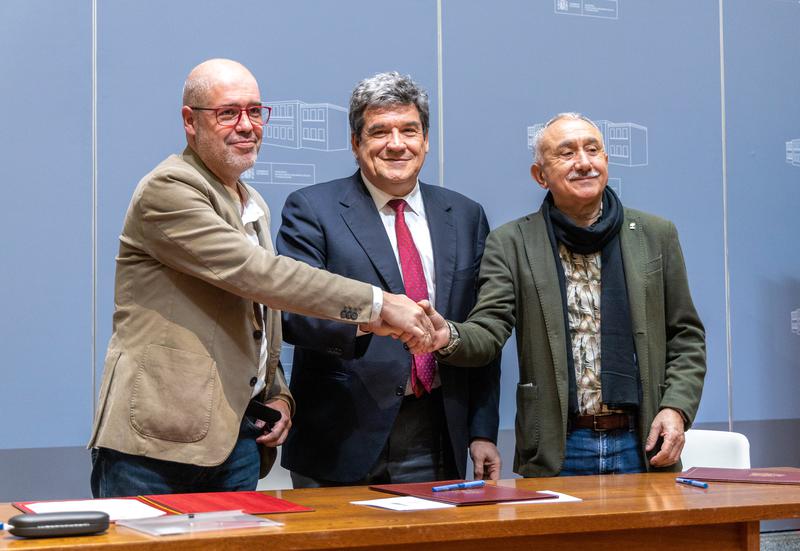 CCOO and UGT, two major unions in Spain, voted in favor of backing the Spanish government's pension reform on Wednesday.
The unions' decision-making bodies decided to unanimously back the proposal that had been endorsed by the European Commission days earlier but not by employer organizations, who have rejected it.
Spain's social security minister, José Luis Escrivá, held a press conference with CCOO and UGT secretary generals Unai Sordo and Pepe Álvarez to explain how the reform would "strengthen" the pension system in terms of "sufficiency, equity, and sustainability."
For Catalonia's CCOO union representative Javier Pacheco, "this new pension agreement strengthens the public pension system and guarantees solidarity between people of different generations and classes."
The proposal will allow pensioners over the next twenty years to decide between calculating their pensions based on their previous 29 years of employment excluding their two worst years or on the last 25, as the current scheme does.
It also states that minimum contributory pensions should be 60% of a person's average income to make up for the time a woman may have taken off during her career and therefore to address the gender gap.
Sordo described the day as "one of the most important during this term" as the agreement will "change our way of focusing" on the challenges of baby boomers retiring.
Similarly, Álvarez welcomed the deal and said it would hold regardless of who is in office.
Both unions criticized employer organizations for not backing the deal, while Escrivá argued that the reform would only increase the cost of wages by 37 cents per hour until 2050.