Catalan MPs take plenary suspension to European Court of Human Rights
Members warn the Constitutional Court's decision to prohibit Parliament from meeting "seriously" violates fundamental rights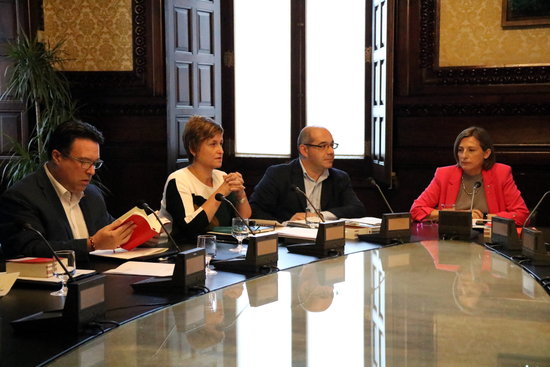 A group of members of the Catalan Parliament, including the chamber's president, Carme Forcadell, have taken Monday's plenary suspension imposed by the Spanish Constitutional Court to the European Court of Human Rights. On Monday, MPs were prohibited by the Spanish Constitution Court from meeting and holding a debate.
The judges suspended the meeting, which had not even been officially convened, on suspicion that independence might have been declared. Faced with that, the Catalan president, Carles Puigdemont, asked to make a statement to the plenary, and a debate was scheduled for today at 6pm. There is a great expectation on what Puigdemont may say in his speech, including the possibility of a declaration of independence.
In their communication to the European Court of Human Rights, the 75 MPs and Forcadell, from pro-independence parties Junts pel Sí, CUP and left-wing coalition CSQP, argue that the "Constitutional Court decision to prohibit Parliament from meeting and holding a parliamentary session constitutes a severe infringement of the democratic rights of individuals to have their views heard through an elected legislature". "If parliamentarians are prohibited from meeting, by definition they cannot express the will of the electors," they added.
In the document, seen by ACN, the MPs accuse the Spanish Court of violating three rights: freedom of expression, freedom of assembly and the right to elect the legislature. "It could never be necessary to prevent a democratically elected Parliament from meeting, there is no legitimate aim that such measures could be intended to meet," they explained.
This is the second application by Catalan politicians to the European Court of Human Rights in Strasbourg. On Monday it was also revealed that one of the 15 high-ranking government officials arrested on September 20 is bringing his case to Strasbourg for violation of fundamental rights, including the right to due process.