Catalan and Spanish presidents commit to meeting in phone call
Quim Torra and Pedro Sánchez will sit and talk as soon as Spain's government is formed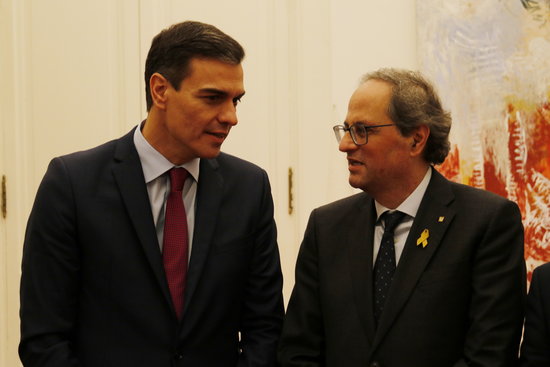 The Catalan and Spanish presidents have committed to meeting in the near future after talking on the phone on Thursday.

The talk, which both cabinets described as "cordial", lasted seven minutes and its outcome was a meeting between Quim Torra and Pedro Sánchez as soon as the latter names his ministers and the new Spanish government is in office.
The Catalan president believes that the meeting will work in order to "put the negotiations on track."
While Torra's party voted against Sánchez's bid for president, the other mainstream pro-independence party, Esquerra, agreed with the Socialists to set up "bilateral negotiations" between cabinets in order to tackle the independence issue.
Sánchez has told the Catalan leader that he wants to resume dialogue and that he has "the sincere will to try to settle the political conflict in Catalonia."