50% of Catalans against independence and 43% in favor, says CEO poll
9% of residents prefer a unilateral decision but 33% are in favor of a deal with Spain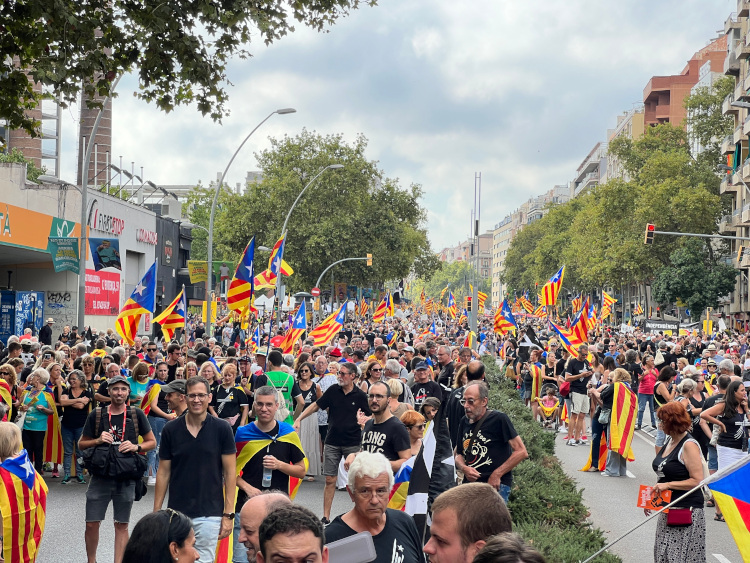 50% of Catalans are against independence and 43% are in favor, according to the latest poll by CEO, the Catalan-government-owned survey agency, whose findings were made public on Wednesday.
The percentages are similar to those in the previous poll in November as those in favor of self-determination only increase by a percentage point.
Meanwhile, 77% of residents are very or pretty much in agreement with holding a self-determination referendum, and only 16% disagree or completely disagree with the idea.
Regarding independence, 33% of answers prefer a deal between the Spanish and Catalan governments to promote self-determination, while 31% prefer a deal between the cabinets to remain in Spain.
On the other hand, 9% support a unilateral declaration of independence. This position is mainly backed by Junts supporters (45% of them agree with the proposal) and far-left CUP voters (36%). Only 12% of Esquerra Republicana members favor this, while 73% of this party's members are in favor of a deal with Spain.
Overall, 74% of those who were surveyed want a republic, with 12% in favor of a monarchy.
The poll surveyed 2,000 people between February 27 and March 24.
Socialists lead in Parliament
The Socialist party would surpass governing Esquerra Republicana de Catalunya (ERC) if a new election were to occur this Sunday, thereby putting the current pro-independence majority in the chamber at risk, according to the same poll.
Pro-independence groups have together been in control of the parliament for a decade now, with 74 MPs between them at the moment.
The poll, published on Wednesday, sees the Socialists extend their lead, becoming clearly the first party at 34-40 seats. In the February 2021 vote, they came first with 33 representatives, tied with Esquerra, but with more votes. But in November, the poll estimated they would get 35-41 seats.