€120m for refugees and businesses, nuclear plant taxes: Catalan plan to withstand war
President Aragonès calls on Spain to raise fiscal deficit cap and condemns 'horror and irrationality' of Bucha killings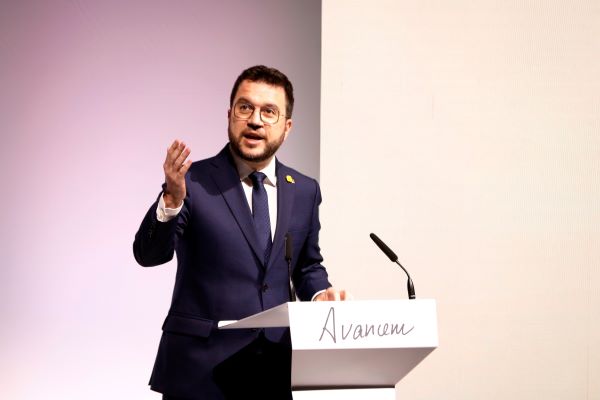 The Catalan government has approved a €120-million plan to withstand the effects of the war in Ukraine, which includes welcoming refugees "with dignity" and granting aid to businesses most negatively affected by the conflict.
In a press conference on Tuesday, President Pere Aragonès said that in order to ensure his administration has enough funds to cover any potential needs in the future, Spain should raise the fiscal deficit cap "from the current 0.6% to 1%."
The Catalan chief also condemned the "horror and irrationality" of the killings in Bucha, Ukraine. "We hope the international community does justice to those accountable" for the tragedy.
"We confirm Catalonia's commitment to Ukraine, and its values of democracy and human rights, which are shared with Europe."
Aid for refugees and affected sectors
The €120-million is already being put to use as "17,400 refugees" are already in Catalonia. Hiring staff to welcome them, granting aid to local councils in order to handle humanitarian efforts, and making sure refugees are not victims of human trafficking are some of the things the government has been carrying out.
Also, refugees "are given psychological and health" care, while around 2,400 children have already been enrolled in schools.
Aragonès also said that €39 million will be allocated towards small and medium businesses and self-employed workers in the agriculture, fishing, and forest sectors because "they are the ones suffering the most from the increase in prices."
Nuclear plant taxes and pollution tariffs for cars frozen
The president also said that the "energy transition" has to speed up, and therefore his government is raising taxes on the storage of nuclear energy by 33%, affecting nuclear plants and other types of energy, which "have multi-million earnings." This will contribute an extra €20 million to government funds.
Meanwhile, the tariffs on carbon dioxide for vehicles, introduced last year, were supposed to be "doubled or tripled" this year, but will be temporarily frozen instead "given the increase of energy costs."
2030 Winter Olympics
Aragonès also addressed the question of the 2030 Winter Olympics bid by announcing that Catalonia would not make any concessions to neighboring Aragon, with whom there had been an initial agreement to co-host them but which Aragon then rejected.
The Spanish Olympic Committee, however, is still set to move forward with the joint candidacy that residents of the Catalan Pyrenees will vote on on July 24.
"We will not change the venues for the events," Aragonès said. "Weeks of work done with technical criteria has gone into [selecting] them."
Far-left pro-independence CUP has already stated that they would campaign against the games ahead of the referendum. "The date is not ideal, the questions are confusing, and there is a complete lack of transparency," the party's Dolors Sabater said. "We do not know absolutely anything about the project."