'This is not a trial between equals,' says Welsh MP
All-Party Parliamentary Group on Catalonia chair, Hywel Williams, describes prosecution of Catalan leaders in Supreme Court as "highly politicized"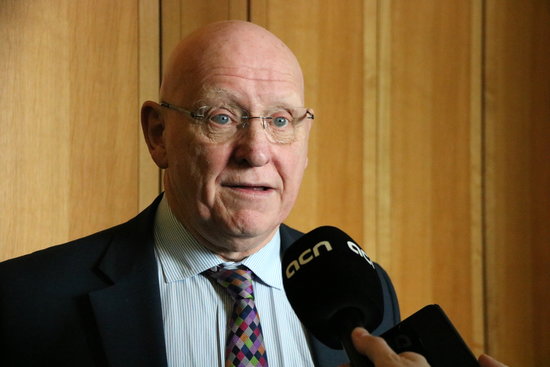 The trial of Catalan independence leaders in Spain's Supreme Court "doesn't seem to me to be fundamentally a trial between equals," said Hywel Williams on Thursday, Welsh MP and chair of the All-Party Parliamentary Group on Catalonia.
Williams was in Madrid on Thursday to observe the court case in which 12 former officials and activists who are being tried in the Supreme Court for rebellion, sedition and misuse of public funds for their part in the independence bid in Catalonia in 2017.
"What strikes me is that this seems to be a continuation of politics by other means, that it is highly politicized," Williams told Catalan News, who added that this was "cause for concern" and "a very sad thing to say about a western European country."
The All-Party Parliamentary Group on Catalonia was set up in March 2017 and is made up of 21 UK MPs from different political parties whose aim is to develop links between parliamentarians in the UK and in Catalonia.
MP "astonished" by police conduct during referendum
Williams, a member of the Plaid Cymru social-democratic party advocating for the independence of Wales, witnessed the unilateral referendum on October 1, 2017, declaring himself to be "astonished" by the conduct of the Spanish police.
"It was clearly a popular referendum with hundreds and thousands of people turning to exercise their democratic right to vote, and yet they were prevented from doing so by violent police action, some of which I witnessed myself," he said.
Williams also commented on the lack of translation services in the Supreme Court, saying: "I've been quite surprised to see that there's no simultaneous translation. If a case like this was held in Wales, there would be simultaneous translation without any doubt."
Summing up his impressions of the trial, Williams said "the only difference between the trial here and politics in Catalonia, or Wales for that matter, is that one side of the debate goes home at night and the other side goes to their cells."