Spanish police testify of 'voter violence'
One Spanish officer claims the Catalan police used a government car in operations on the day of the vote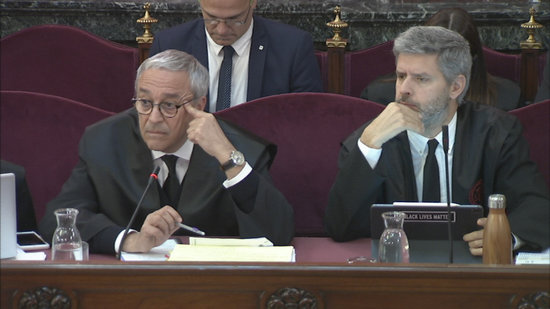 Spanish law enforcement officers from the National Police testified on day 29 of the Catalan Trial—and, as many of their colleagues had done the day before, spoke of violence from Catalan voters on October 1.
One Spanish National Police Corps officer also told the court of spotting Catalan police leaving a school and entering a car that was owned by the Catalan government.
In his testimony, the anonymous police officer explained that the car was registered under the presidency department of the government. He said he saw the Catalan officers leave a school after a police operation before entering the car.
"All of our suspicions on the Catalan police were confirmed in that moment," he explained.
Officer: voters had "two motorcycle helmets on each arm"
One officer from the Joan Boscà polling station alleged that some citizens wore "two motorcycle helmets on each arm," allegedly to attack law enforcement. "We suspected they knew that we were coming," the witness added.
The witness spoke of leaving the polling stations being "the most difficult part," recalling voters hitting police vehicles, even "punching" the cars, as well as rocks and glass bottles being thrown and hearing insults such as "animals" and "fascists."
Another officer, acting as surveillance during the referendum, said he saw voters carrying "sticks, helmets, and chains." Although he perceived "a violent attitude," he denies seeing any concrete act of violence.
Another still said on the stand that it was "dangerous" for Spanish police officers to enter polling stations on referendum day, alleging that voters were blocking the entrance and shoving them when trying to seize referendum material.
Witness alleges being "followed" by Catalan police
The actions of the Catalan police were again called into question in the morning proceedings. One Spanish police officer, when cross-examined, said that no joint operation with the Catalan police was considered when deciding what polling centers to act on.
Another witness alleged that he was followed by "two Catalan plain-clothes-police officers wearing earbuds with microphones, in a car that was property of the presidency ministry [of Catalonia]."