Prosecution videos aim to link referendum with violence in Catalan trial
With over four hours of footage shown in court, prosecutor unable to say where incidents took place and showed same recordings more than once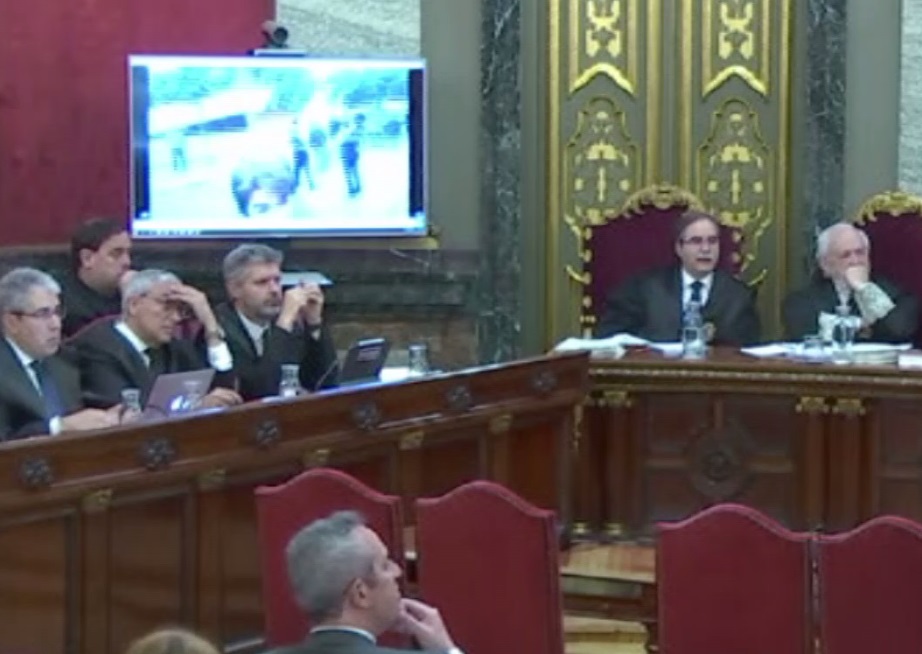 Tuesday in the Supreme Court was devoted to showing videos from September 20 and October 1, as the prosecution aimed to establish that violence was used in the 2017 independence bid, thereby justifying the rebellion charges against the jailed Catalan leaders.
Much of the footage shown in court featured protesters and voters preventing Spanish police officers from carrying out the judicial order to halt the unilateral referendum, but with very few images of police officers using hardline tactics against the public.
Prosecutor unable to say where or when footage had been recorded
With the videos shown in no clear chronological order, in many cases the state prosecutor was unable to say where or when the footage had been recorded, while in other cases the prosecution showed the same videos more than once.
Footage from October 1 in a number of Catalan towns, mostly recorded by the officers themselves, showed referendum voters impeding or harassing the police, while others showed Catalan officers talking to voters or in altercations with their Spanish counterparts.
Some of the videos shown in the afternoon session had already been seen in the morning. What's more, some of the repeated videos were identified as happening on different days, as was the case with footage of protesters blocking roads and railway lines.
With more than four hours devoted to showing footage, the prosecutor was often "unable" to tell the defense lawyers where exactly the video had been recorded, saying that the intention had been to show the "general climate everywhere."