Prisons consider letting inmates with leave entitlements spend confinement at home
Spanish Supreme Court says allowing jailed independence leaders out could be 'breach of official duty' and they would investigate officials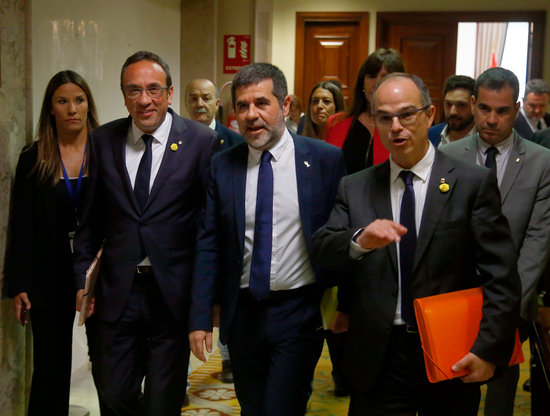 Prisons are examining whether inmates entitled to regular temporary leave should be allowed to spend the confinement period at home.
For the measure to be applied to them, prisoners are required to have a home and a low risk of reoffending.
Justice minister Ester Capella said "fewer people need to be in prisons in the current situation," and called on the prison authorities to "analyze what the law allows."
The jailed independence leaders are among those entitled to regular temporary leave under article 100.2 of Spain's law governing prison regulations.
Spanish Supreme court issues warning
Early on Tuesday afternoon the Spanish Supreme Court issued a brief statement warning that allowing the jailed independence leaders home during the confinement period could constitute the crime of 'breach of official duty'.
If prison boards agreed to the release, the court said they will ask management and boards for explanations so that "they explain the legal basis behind this decision at the earliest opportunity."
Justice ministry aims to reduce prisoner numbers
The Catalan justice ministry is aiming to reduce the number of prisoners in jail to a minimum. Those prisoners on the most lenient regimes, who were already sleeping at home from Monday to Friday, are now at home seven days a week.
Now prisons are looking at the next category of prisoners on a case by case basis. These are inmates like the jailed independence leaders who have regular, temporary leave for reasons of work, volunteering, training, and looking after family members. These kinds of leave have been suspended since the onset of the health emergency.
According to the justice ministry there are 101 prisoners in this category, excluding 57 who have already been transferred to the most lenient kind of regime since the start of the coronavirus crisis.
On Friday, two of the jailed leaders, former vice president Oriol Junqueras and former exterior minister Raül Romeva, called on Spain's Constitutional Court to suspend their prison sentences, arguing that keeping them in prison during the covid-19 crisis puts them at risk and "seriously affects" their basic rights.