Most coronavirus deaths in a single day since February 20
A further 58 people lost their lives due to the pandemic in the latest updated figures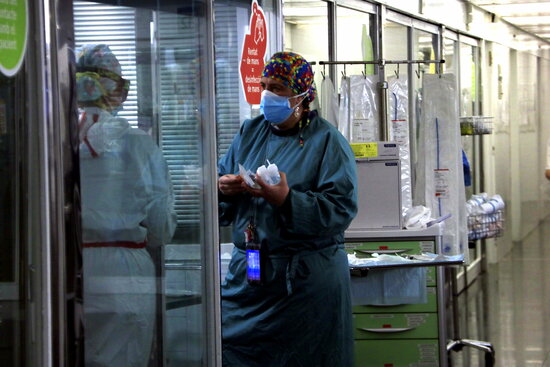 Catalonia has seen the most deaths linked to Covid-19 in a single day since February 20 in the latest updated figures.
Catalan health authorities update the pandemic figures daily on this website, and on Tuesday, July 27, it was reported that a total of 22,490 people have now lost their lives since the start of the pandemic - an increase of 58 compared to the previous day.
A rise as high as this has not been seen since 59 deaths were recorded on February 20.
The number of people requiring hospitalization and intensive care due to the coronavirus has also continued to increase in the latest count.
Patients in hospitals now number 2,237, up by two from Monday's update, and ICU occupancy is now at 535, up by 25 people.
Overall, Tuesday's update showed a further 5,487 infections.
The outbreak risk, transmission rate, and incidence rate all continue to decrease.
For the outbreak risk, above 100 is considered 'high' risk and authorities consider anything above 200 as 'very high' risk. It is calculated using an iEPG index - found by multiplying the average spread of the virus over the past seven days by the cumulative incidence over the past two weeks.
The latest update places this indicator at 976 - below 1,000 for the first time since July 4.
The transmission rate, the average amount of times one Covid-19 positive person will pass the virus onto another person, has now fallen to 0.88, down by 0.03 points.
The IA14 - the number of infections per 100,000 population over the previous two weeks - now stands at 1136.95.
Vaccination progress
As of July 26, 2021, 4,928,817 residents have been given at least the first dose of the vaccine, 62.6% of the total population. Out of those, 3,873,794 have also been administered a second dose (49.6% of the total population). 4,364,693 residents are considered to be fully immunized (55.5%).
Under 65s who have already had the virus are only required to have the first dose, and others have received a single-dose jab. Therefore, the % of two doses administered and % fully immunized do not match.

Number of people diagnosed per day
Hospitalized patients and ICU patients from July 29, 2020
Number of confirmed and suspected Covid-19 deaths per day (at hospitals until May 19, also other health centers from May 20, also elsewhere since August 5)
Outbreak risk (over 100 is high) and transmission rate (over 1 concerns authorities)
Number of cases per 100,000 inhabitants in last 14 days
Percentage of population vaccinated
Number of people given first and second dose
New vaccinations per day (both 1st & 2nd dose)
Covid-19 vaccination progress in top priority groups