Former Spanish finance minister testifies in independence trial
"No public money was spent on the referendum," said Cristóbal Montoro shortly after 2017 vote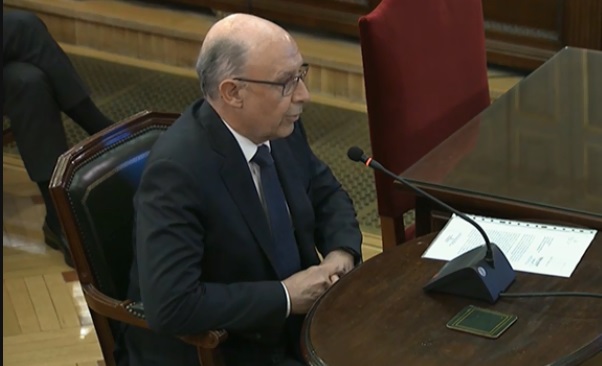 The Spanish finance minister during the 2017 Catalan crisis, Cristóbal Montoro (People's Party), started to testify in the independence trial on Wednesday evening, after the former head of the cabinet he was member of, Mariano Rajoy.
Montoro famously told the press shortly after the referendum that "no public money was spent on the vote," after his department closely controlled Catalonia's finances in 2017. This, if true, would contradict the allegation of misuse of public funds that all the former Catalan government members face.
In his testimony, he said the Catalan government could have "lied" to fund the referendum in the weekly reports sent to Madrid.
Yet what he made clear is that they "couldn't call a referendum without budget."
"What kind of vote is called without public money?," he asked.
Commenting on his controversial remarks after the referendum, he argued that he "wanted to tell Spaniards that the Catalan government had no possibility of spending public money on the referendum."
Two witnesses reject questions of far-right Vox
After this testimony, several pro-independence former MPs were asked to testify.
Two of them rejected being cross-examined by the private prosecutor, far-right Vox party.
As a result, Spain's Supreme Court judges warned them of possible criminal charges and canceled their testimonies.
The former MPs for far-left CUP party Antonio Baños was the first one to reject the cross-examination of Vox.
"I won't respond due to democratic dignity and antifascism," he said.
Meanwhile, Eulàlia Reguant expressed arguments in the same vein. "Facing the far right, and a sexist and xenophobic party, I won't respond to their questions," she said.