Follow live feed of Catalan trial, on day marking a year and a half incarceration
More Spanish police officers testify in session 32 of proceedings regarding 2017 referendum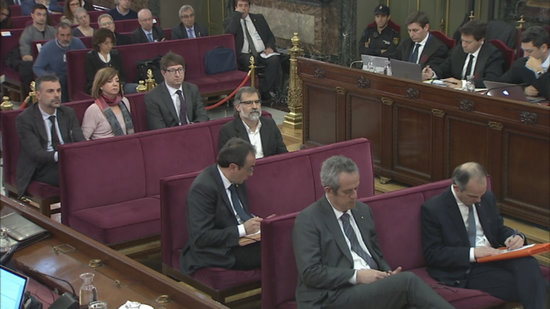 Day 32 of the Catalan trial is underway at the Supreme Court in Madrid as more Spanish police officers began to testify at 10am.
The witnesses are talking about their experience on referendum day in 2017, including alleged violence by voters.
Like their colleagues have been doing in the past few weeks, the Spanish police officers testifying are accusing their Catalan counterparts of inaction. "They didn't act at all," said one member of Spain's law enforcement.
Cuixart and Sànchez arrested on Oct 16, 2017
Tuesday also marks one and a half years since the first two pro-independence leaders were incarcerated pending trial.
Jordi Sànchez and Jordi Cuixart, presidents of the main two civic organizations in favor of a Catalan state in 2017, were jailed on October 16, that year.
They were accused of sedition – and then, rebellion – for their role during the independence bid, especially a demonstration against Spanish police raids to public buildings to dismantle the referendum logistics.
Follow the trial live on our Twitter feed: