Five Sitges bars to reopen at night on May 20 as part of clinical trial
400 party-goers will be allowed on "Sin Street" after testing negative for Covid-19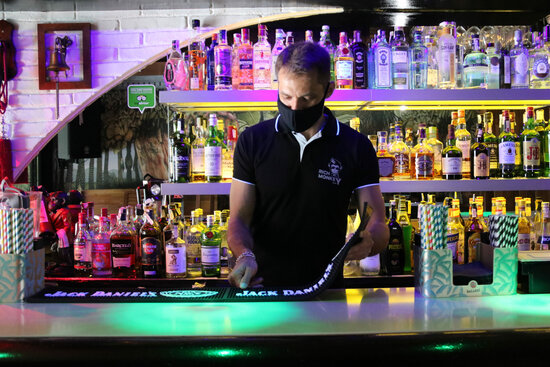 Almost two months after 5,000 people were able to attend the successful Love of Lesbian concert experiment in Barcelona with masks but no social distancing, another 400 will soon be relishing in some pre-pandemic fun in the coastal town of Sitges.
From 11 pm to 3 am on the night of May 20, five bars on the town's so-called "Sin Street" (Carrer del Pecat, officially Carrer del Primer de Maig) will be opening their doors to the party-goers who manage to sign up to participate in the clinical trial and who have proof of a negative rapid Covid-19 test from that same day.
Sitges' Restaurants Association, as well as the Sin Street Musical Bars Association, had hoped to carry out this experiment, which is funded by the local council, backed by the health department, and supervised by IDIAP Jordi Gol, right after Easter, but logistical delays pushed the date back to May.
The people participating in this experiment, who have to be over the age of 18 and live in l'Hospitalet de Llobregat, Barcelona or Garraf, Alt Penedès, or Baix Llobregat counties, will be able to move around within the closed-off area where the Everlasting, Pachito, Rich Monkey, Las Vegas, and Blitz bars are located.
Although the people participating in the experiment will be asked to wear face masks provided to them by the organizers, to not get too close to one another, and to use the hand sanitizer that will be made available to them, they will still be permitted to consume beverages on site.
Five days later, as health secretary general Marc Ramentol explained, those in attendance will be asked to take yet another Covid-19 rapid test in order to compare virus prevalence amongst them to that of a similar segment of the population.
The five bars in question have been able to open the past few months, but only during the day, bringing down business considerably. Because of this, the Sin Street Musical Bars Association believes this experiment will be "key" to the sector's long-term success.