Finance official unable to confirm if public money was used for referendum
Former high-ranking member of Spanish treasury testifies in Supreme Court, with Catalan public servant and Spanish Guardia Civil police officers to follow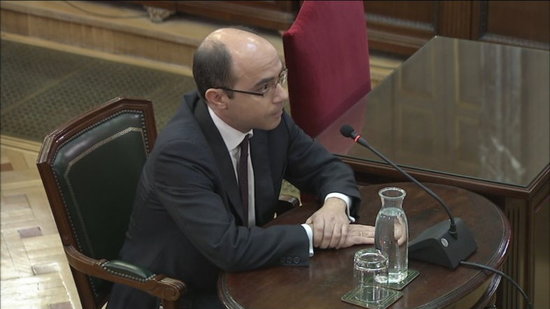 Although Spain's finance ministry "put all the elements in place" to ensure public money was not used for the 2017 referendum, a high-ranking treasury official during the political crisis told the Supreme Court on Tuesday that he could not confirm "what actually happened."
Week Six of the trial of Catalan independence leaders began with the testimony of Felipe Martínez, the deputy secretary of the Spanish finance ministry during the 2017 independence bid.
After the finance ministry took control of Catalonia's finances in the run-up to the referendum, "all aspects of public funding of the Catalan government were sent to the Spanish executive," Martínez confirmed.
Martínez said the Spanish government followed court orders and requested information from the Catalan authorities about possible "expenses related to the referendum" and international observers.
However, the former finance official also told the court that there were "delays" in sending some of the information related to Catalonia's finances, and that it was sometimes "incomplete or inexact." In these cases, he added, the prosecutor was informed.
Martínez had been summoned to appear in court as a witness last Thursday, but due to the length of the testimony given by Josep Lluís Trapero, the former Catalan police chief, Martínez's hearing was postponed.
Police officers requested by prosecution
After the official's testimony, the first of seven Spanish Guardia Civil police officers took the stand, with seven more due to testify on Wednesday, and another 10 giving testimony on Thursday.
All 24 law enforcement officers are witnesses requested by either the public prosecutor or Spain's solicitor general.