Catalan health minister in favor of lifting face mask obligation in public transport
Spanish authorities, in charge of measure, have said no plans to ease regulations this autumn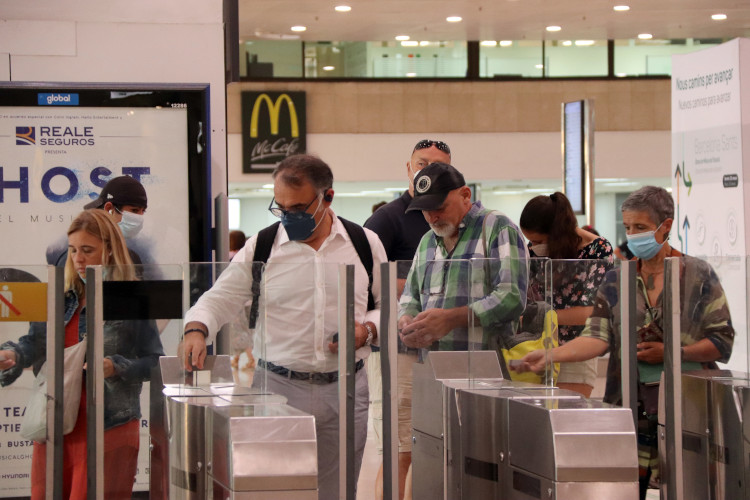 The Catalan health minister, Josep Maria Argimon, is in favor of lifting the obligation to wear face masks in public transport, and turning it into a recommendation.
During the presentation of the future HQ of the medical emergency services (SEM) on Wednesday, he said residents "will need to wear it in fall," referring to the end of October and beyond, when transmissions of viruses go on the rise due to colder weather conditions.
For him, it is better to "oscillate" between recommending facial protection when the impact of the disease is not at a high, and obliging it when transmissions increase.
On Thursday, Argimon insisted on his message in a press conference that "having a decree that obliges to do something that has not been complied for months is not good."
"Having turned it into a recommendation would have been better and, since we may have an uptick in fall and winter, we can then strongly recommend it again," he added.
For Argimon, "a lot of people in the underground do not wear it" because there is lower risk and the perception of risk has also decreased.
Yet, it is the Spanish government the one in charge of the measure, and no plans have been revealed to put an end to the mandate.
Earlier this week, Spain's health minister, Carolina Darias, called for "caution" with Covid-19.
"Experts have already stated it: transmissions will peak in fall and winter," she said to the press.
According to her, her office has not received any recommendation to ease regulations from her ministry's advisors.
Face masks still mandatory also in hospitals and pharmacies
Face masks have been uninterruptedly compulsory in public transport since spring 2020, and they are also mandatory in hospitals, pharmacies, and care homes, as well as when going to a physiotherapist, a psychologist or similar medical settings.
In April, the obligation to wear such protections in most indoor spaces was lifted, including schools, bars, restaurants, and cultural venues.