Cancer diagnoses in primary care centers return to pre-pandemic levels
Work increased by 30% on 2019 despite empty waiting rooms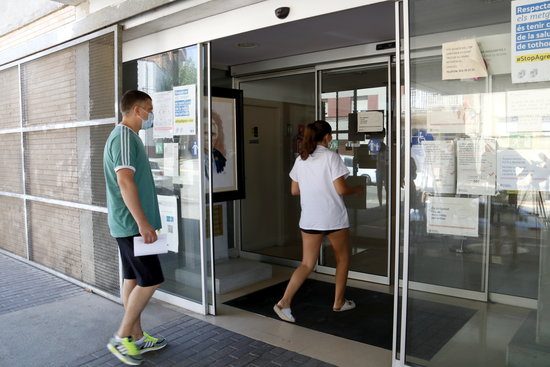 Public primary care centers in Catalonia made 32,532 cancer diagnoses between January and October 2021, just 0.27% more than two years earlier, before Covid-19 severely impacted the health system.
Non-urgent medical care was put on hold at the height of the pandemic, leading to a 24.71% drop in diagnoses to 24,425 detected cases.
"There is a gap between the diagnoses not made in 2020; therefore, we do not know if there should have been more in 2021 because we have this 8,000 difference between 2019 and 2020," Ariadna Mas, the Catalan Health Institute's primary care director, told the Catalan News Agency (ACN).
Ischemic cardiopathy, heart failure, and diabetes diagnoses have increased in primary care centers over the first ten months of 2021, while care workers have also had to treat patients with Covid-19, carry out PCR and antigen tests, trace close contacts, and vaccinate residents.
Despite a sense of empty waiting rooms due to Covid-19 protocols, "care centers have been open and our workload has increased by 30% compared to 2019." According to her, more work has been done online or on the phone "as a measure to protect the population," but she believes there needs to be fewer calls "because they are less beneficial than other meetings."
Last week, there were 52,891 Covid-19 visits to primary care centers because of the increase in cases due to the pandemic.
More chronic ailments diagnosed and patient clinical monitoring
The goal of primary care, after recovering from the impact of Covid-19, is to diagnose more patients with chronic conditions and improve clinical monitoring.
Ariadna Mas said this objective was expected to be reached by the end of the year. "There is a big effort to combine Covid attention with other medical visits, and we can see it in the increase in online and in-person work."
Prevention is essential
"Prevention is really important when it comes to promoting health and to make sure people do not fall ill," Mas said. "This is something that we did not do [during the height of Covid] and we need to recover."
The effects will not be noticeable in the short term, but Mas alerts that it does have a huge impact on the future, as health prevention has not reached 2019 levels.