Allowing mobility within whole Barcelona metropolitan area at weekend considered
Shopping centers and ski resorts reopen, as cultural and religious venues see restrictions loosened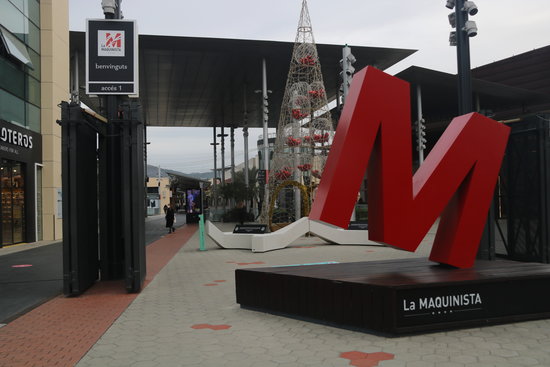 Civil protection authorities are considering the possibility of changing weekend mobility restrictions in the region of Barcelona from county level to stretch to the entire metropolitan area.
This potential change in restrictions would come after other changes coming into force this Monday, including shopping malls being able to reopen once again, following weeks of closure, due to new coronavirus restrictions imposed in October.
Shopping malls can reopen at 30% capacity following hordes of Christmas shoppers descending during the bank holiday weekend in early December, causing officials to believe that opening shopping centers might ease pressure on the city center.
This debate surrounding the reopening of shopping malls also brought up the issue of allowing the entire Barcelona metropolitan area to be considered as one under the guise of the weekend lockdown.
The aim of this would also be to further dissipate weekend crowds, in order to limit risks of Covid-19 contagion.
Ski season begins
In agreement with the Catalan government, ski resorts through the Catalan Ski Station and Mountain Activities Association (ACEM), agreed to reopen on Monday.
While some of them expected a busy day, others began their activity slowly given that it was a working day.
There are currently limits on the sale of ski passes linked to the amount of slopes open to stop crowds. With this, sales will all have to be completed in advance, and online.
When deciding to reopen, ski businesses highlighted the idea that ski stations are a "safe environment" in relation to the current global health crisis, due to the large spaces and open air.
Furthermore, ACEM asserted that ski lifts were a safe mode of transport due to the short time spent on them by skiers, the face coverings and masks worn during skiing, as well as the fact that most of them are also entirely open.
However, hotel owners in the Pyrenees are worried that without an end to weekend mobility restrictions or at least a loosening to county level, this will not help enough, since most people are unable to come and ski during the week.
Certain measures have been put in place to bring more tourism from locals. The Molina station in the Pyrenees has offered a ski bus, which will connect Puig-Reig, Berga and Guardiola de Berguedà to the ski slopes.
Recent loosening of restrictions
Other restrictions have also been changed in the past few weeks, for example in the cultural sector.
Cultural venues were able to host up to 1,000 people as long as they are not over 50% capacity and if they can implement crowd control measures and can provide proof of having an appropriate ventilation system in place.
Otherwise, events will remain capped at 500 people and 50% capacity, while in both cases spectators will have to remain seated during shows.
Religious and civil ceremonies
Events such as weddings, funerals, or religious services, were until now capped at 30% and could have at most 500 people.
Yet, from Monday, ike cultural events, they were allowed to have up to 1,000 people at 30% capacity in larger venues if adequate ventilation and crowd control measures are in place, though both cases will require authorization from the Catalan justice department and the local council.