Moving to Barcelona: paperwork, neighborhoods, healthcare, and more
Everything you need to know if you want to live in the Catalan capital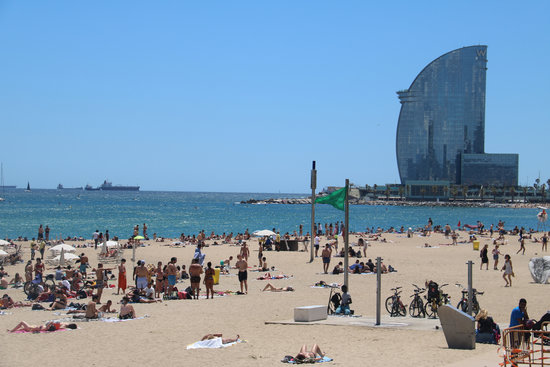 Barcelona is a beautiful, historic city with plenty to offer residents of all ages. If you're considering moving to this vibrant metropolis, keep a few things in mind to make the transition as smooth as possible. But, how hard is it to move to Barcelona?
MySpainVisa is a law firm specializing in immigration that has been helping clients move and settle in Barcelona for more than 10 years. In this article, some of the most important factors to consider beforehand will be covered, as well as some tips to make your move to Barcelona as seamless as possible.
What are the best neighborhoods in Barcelona to live in?
Barcelona is a big city and deciding which neighborhood is best for you can be tough. Public transportation in Barcelona is also top-notch. If you're looking for a lively neighborhood with plenty of nightlife, then the Gothic Quarter is a great choice. For a more residential neighborhood with a slower pace, try Gràcia or El Born.
Barcelona is also divided into districts, each with its unique character. For example, Ciutat Vella is home to the city's historic center, while Eixample is known for its grid-like streets and stunning architecture. If you're unsure where you want to live, it might be worth exploring a few before making your decision. You can also try out apartments in Les Corts before you move.
How easy is it to rent or buy a flat in Barcelona?
Renting or buying a flat in Barcelona from a real estate agent is not as easy as you might think. The city is very competitive, and prices have risen steadily for the past few years.
There are a few things you can do to increase your chances of finding a place, such as starting your search early. The sooner you start looking, the better your chances of finding something. You may not find exactly what you're looking for, but if you're flexible, you'll have an easier time finding something that works for you.
Be prepared to pay a premium. Prices in Barcelona are high, and if you want to live in Barcelona and in a good location, you'll likely have to pay more than you would in other cities. But you will get to enjoy parks like Park Güell.
What are the best schools in Barcelona for my children?
If you're moving to Barcelona with kids, then you're probably wondering about the best private schools in the city.
Here are a few things you should know about them:
1/ The international school year in Barcelona runs from September to June.
2/ There are both public and private schools in Barcelona.
3/The majority of schools in Barcelona are co-educational, but there are also a few single-sex schools.
4/Most private schools in Barcelona offer bilingual education, with children taught to speak Spanish and English.
So, what are the best schools in Barcelona? That depends on your child's needs and preferences. But some of the most popular schools include the American School of Barcelona, the British School of Barcelona, and Lycée Français.
Can I work when I move to Barcelona?
To be able to afford your life in Barcelona, you will need to be able to find a job in Barcelona. The good news is that there are plenty of opportunities for English speakers in the city.
There are several international companies with offices in Barcelona, so if you have experience working for one of these, it might be worth checking to see if they have any openings. Alternatively, start-ups and small businesses in the city are always on the lookout for talented individuals to join their teams.
Of course, working in Barcelona is not just limited to English speakers. You will have even more opportunities if you can speak Spanish and Catalan. However, even if you only speak English, you should still be able to find something that suits your skills and interests.
How does the healthcare system work?
If you are planning to move to Barcelona, you'll want to know a bit about the healthcare system before you go. Healthcare in Barcelona is good, but it's a bit different from what you might be used to.
First, you'll need a health card, which you can obtain by registering with the Catalan health service. This will give you access to public hospitals and clinics. You can also choose private health insurance, which will give you access to private hospitals and clinics.
Healthcare in Barcelona is generally good, but there can be long waits for appointments and surgeries. If you have a chronic or serious illness, it's worth considering private health insurance so that you can get treatment more quickly.
What kind of paperwork do I need?
One important task on your to-do list should be getting your paperwork in order. Here's a rundown of some of the most important documents you'll need to move to Barcelona.
1 / Passport
You'll, of course, need a valid passport to enter and live in Spain. Make sure yours will not expire within the next 6 months, or you may have trouble renewing it once you're here. If you don't have a passport yet, start the application process as soon as possible—it can take a while.
2/ Visas and Residency Permits
If you're not an EU citizen, you'll need to obtain a visa before coming to Spain. The type of visa you'll need depends on your reason for moving—for example, whether you're coming for work, study, or family reasons.
You can apply for your visa at the Spanish consulate in your home country. Once you move to Barcelona, you'll need to register for a residency permit within 30 days of arrival. You can do this at the Oficina de Extranjería (Office of Foreigners). Be sure to bring all the necessary documentation, including your passport, rental contract or accommodation, and proof that you have access to healthcare in Spain. You may also need a non-lucrative visa and a golden visa to work in Barcelona.
3/ NIE Number and Tax ID Number (Número de Identificación Fiscal)
Every foreigner living in Spain must have an NIE number (Número de Identificación de Extranjeros). This is your tax identification number, and you'll need it to open a bank account and to sign up for utilities. You can apply for your NIE at the Oficina de Extranjería—just be sure to bring your passport and fill out the application form in advance.
You can get the form at any police station or request it from the Oficina de Extranjería website. You'll also need another form of identification, such as a driver's license or birth certificate. Once you have your NIE number, you can apply for a Spanish Tax ID number (Número de Identificación Fiscal), which you'll need if you plan on working in Spain.
Conclusion
So is moving to Barcelona a good idea? Can I just move to Barcelona? These are common questions for anyone looking to move to Barcelona. There's a lot to love about Barcelona, from the food to the architecture to the nightlife.
(Catalan News is not liable to third parties for any information in this statement