The sobering tale of mass tourism on the coast of Catalonia
Catalan resorts are cracking down on so-called binge tourism but it has come at a cost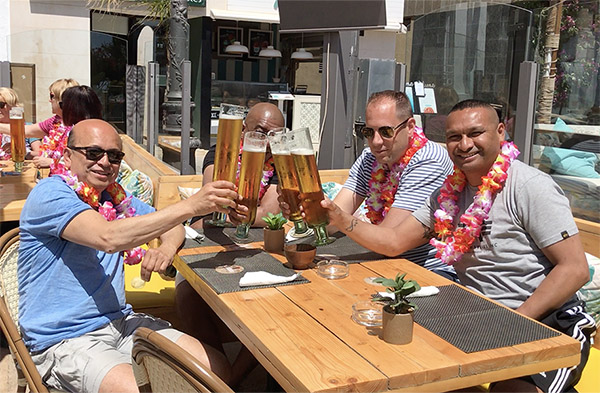 For more than a decade, a former fishing village an hour south of Barcelona turned into what locals decried as a cesspit of sex, violence and vomit.
At the height of the Christian Holy Week, 10,000 British students took over the streets of Salou every Easter to revel in its annual nightlife festival.
But three years after the final Saloufest – organizers have since caved in to local pressure and called time on the event – Salou is shedding its reputation for debauchery.
Sporting Salou
The outgoing mayor Pere Granados, who calls the defunct festival as a "joke", blamed the hordes of photographers who used to camp out in the town, poised to capture any drunken antics, for deterring potential investors in more palatable forms of tourism.
Instead, local government had to step in to start up alternative activities.
This April, its coastal strip was packed with even younger, but much better-behaved visitors as Salou welcomed the children's football World Cup – just one of the various festivals of a very different kind it has hosted recently as it strives for an inclusive image.
Salou is becoming a leader in family-friendly, especially sports, tourism, having staged more than 30 international tournaments last year, including basketball, beach football, ballroom dancing and triathlon, drawing over a quarter of a million visitors.
Cutting the Costa Brava
At the other end of the coast, Lloret de Mar was tipped to take over Saloufest and become the Catalan drinking capital, but it too is desperate to sober up.
Since 2017, the town council, tourist board and Catalan government have pledged a million euros a year towards facilities designed to adapt its tourist demographic – which so far has not proved as simple as swapping nightclubs for sports clubs.
In 2019, the total public funding could reach triple that – but local hotels complain it pales in comparison to the hundreds of millions of euros they are having to spend.
Funding dry patch
Ahead of this month's local elections, the major parties are all promising to extend and expand the investment project. But candidates on the left have attacked the conservative administration for failing to keep pace with improvements at other resorts.
Struggling local business owners say the proof is that, despite being Catalonia's second most popular tourist destination behind Barcelona, Lloret de Mar still has one of its least well-off populations.
Lloret's hotel association has called for more public money to go towards introducing tourist attractions such a theme park, setting up sporting events and cultural festivals, cleaning up the beaches, and improving working conditions.
"In the private sector, we believe that public contributions should be much greater, but we are facing up to the reality," says its president Enric Dotras.
Tackling seasonality
While tourism based on sporting events is alright in the summer – all year round, it cannot make up for the five million euros the nightlife used to offer annually.
And when competition season does come round, sporty visitors are either too young to spend enough – or spend as much time as anyone with a pint or two.
Party time is nearly over in Catalan resorts but it has yet to be replaced.