The Roca brothers prepare menu for Elton John's Oscars night dinner
More than 1,000 guests will taste chef's Joan Roca vanguard dishes, which keep a family tradition and Mediterranean flavor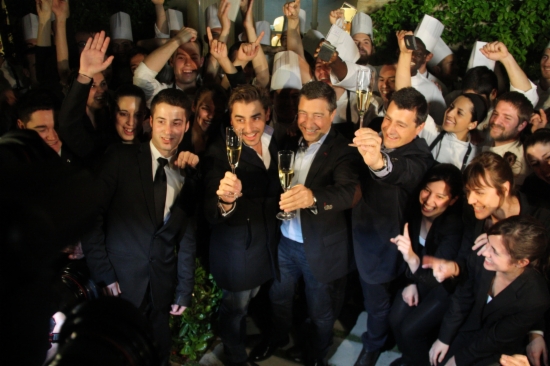 El Celler de Can Roca, the Girona-based restaurant, and considered one of the best restaurant in the world, will prepare the menu for Elton John's Oscars night dinner on March 4. The Roca brothers, Joan, Josep and Jordi, are preparing a dinner with vanguard dishes that, as it is often the case with them, will keep a family tradition and Mediterranean flavor.
More than 1,000 guests are expected to attend the dinner, one of the most popular charity nights in Los Angeles, in order to raise funds to fight against AIDS. Last year, Elton John raised more than 7 million dollars, and this figures is expected to increase even more this time around.
Chef Joan Roca said that the menu will be very "flexible" in order to adapt to the very different cultures, styles and ways of understanding food of the people attending the event. To start with, they will taste a dish made with the Roca brothers' mum recipe: a special cannelloni. As main dish, guests will be able to choose between a Bass à la Chardonnay with hazelnut, truffle and lemon gnocchi or fillet with red wine and vegetables. There will also be a salad with Catalan cheese and a one of the classic desserts in their restaurant, the 'orange chromaticism', which is both sweet and fresh.
The Roca brothers will be helped by a team of local chefs in Los Angeles, especially considering that there will be more than 1,000 guests at the party. "It's a challenge, but a challenge that we love," said Joan Roca.
El Celler de Can Roca is amongst the best restaurants in the world. It was recognized as number 1 in 2013 and 2015, and came third last year.